Pregame Party: K-State Football vs. Vanderbilt
Saturday, Sep 16, 2017

Nashville, Tennessee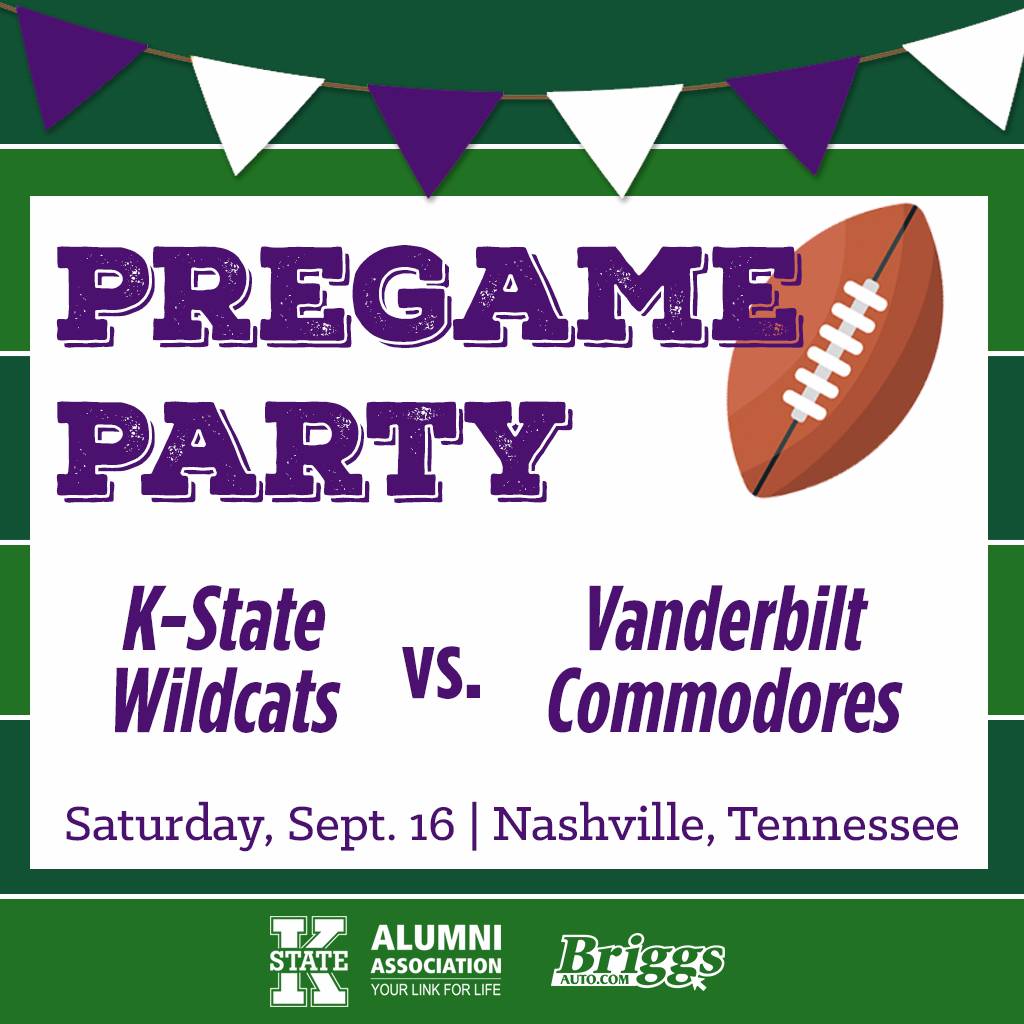 Join fellow K-Staters in Nashville, Tennessee, for an Alumni Association Pregame Party before K-State football faces Vanderbilt!

Gameday Guide
Download the Gameday Guide for:
• Pregame details • Stadium maps and policies • Parking information • And much more!

Where
The Pregame will be approximately two blocks from Vanderbilt Stadium. The tent will be located between Children's Way and Blakemore. A map of the area is available in the Gameday Guide.

K-State Guests
• Gene Taylor, director of Athletics, Kansas State University
• Amy Button Renz '76, '86, president and CEO, K-State Alumni Association
• Brad Sidener '80, senior vice president and COO, K-State Alumni Association
• Josh McCowan '09, '11, senior associate athletics director for development and advancement, K-State Athletics
• Mike Clark, senior director of development, K-State Athletics
• Gavin Hargrave '08, '10, associate director of alumni programs, K-State Alumni Association 

Entertainment
Live music from K-Stater and Nashville recording artist Jared Daniels.

Menu
Grilled chicken, pulled pork, green beans, mac 'n cheese, salad, brownies, cookies, tea, lemonade and water. Guests over age 21 will receive two drink tickets redeemable for beer, wine or soda. Guests under age 21 will receive one drink ticket redeemable for a soda. A cash bar will also be available.

More Nashville Fun
• Kansas Songwriters Night
8 p.m. Friday, Sept. 15
Belcourt Taps
2117 Belcourt Ave.
Nashville, TN 37212
Free - All ages permitted
Experience songwriter rounds featuring artists from the state of Kansas.

• Powercat Gameday Pregame
2:30 p.m. Sept. 16
The Centennial
5115 Centenial Blvd.
Nashville, TN 37209 
Powercat Gameday will broadcast live at this K-State headquarters. No reservations are necessary, and food and drinks will be available for purchase from the menu. 

More Pregames
Join the Alumni Association for more pregames this fall. Visit www.k-state.com/pregames for the most current information.

Homecoming week is October 15-21
Come home to K-State for Homecoming! The K-State football team will take on Oklahoma. Visit www.k-state.com/homecoming for more information as it becomes available.
Reservations
Registration for this event is closed.
$50 per adult - Includes full buffet and two drink tickets for wine, beer or soft drinks.
$35 per youth, ages 7-20 - Includes full buffet and a drink ticket for soft drinks.
Children 6 and under are free
All pregame party nametags, meal tickets and drink will be mailed prior to the event. Guests will need to bring these with them to the pregame party. Registration for this event has closed, and walk-up registration will not be available.
Game Tickets
The K-State Athletic Ticket Office has sold out of its allotment for the Vanderbilt game. Fans wishing to purchase tickets are encouraged to utilize Vivid Seats.

Official Travel
Call 888-402-8055 for availability.
Make your trip to Nashville seamless and convenient by joining the K-State Alumni Association's official travel package. Explore Music City's top attractions with fellow Wildcats, like the Country Music Hall of Fame and the night life on Lower Broad. View tour package details or call our sports travel hotline at 888-402-8055 for more information.
Contact
K-State Alumni Association

Phone: 800-600-2586