Great Bend K-State Tailgate Party
1615 10th St.
Great Bend, KS 67530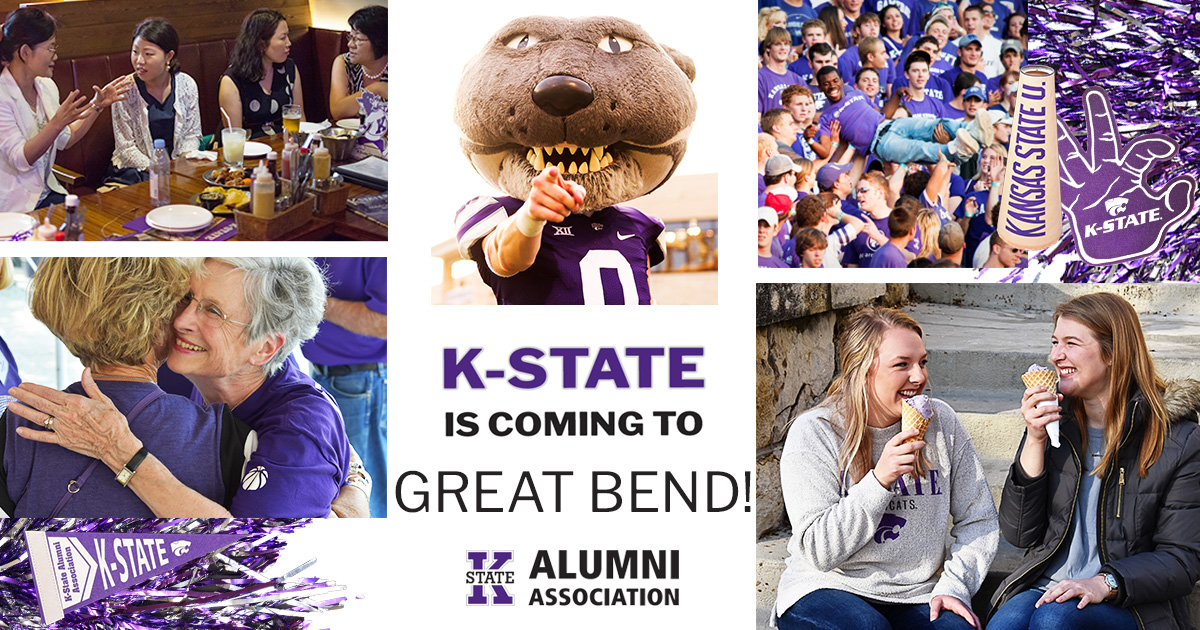 All K-State alumni and friends are invited to a K-State tailgate party, hosted by the K-State Alumni Association and the Great Bend Area K-State Alumni Club. Reservations are due by Sept. 16. 

High school students (classes of 2020 and 2021), community college or current K-State students may attend for free and will receive a free K-State T-shirt! 

High school seniors and transfer students attending K-State in fall 2020 need to be registered by 6:30 p.m. to be eligible for the scholarship drawing.

Helping local students pursue their education is more important than ever. Guests can help in three ways:
Contribute to the club's scholarship fund with a tax-deductible donation
Sponsor a student meal
Come to the event at show students what K-State spirit is all about!
K-State Guests
Amy Button Renz '76, '86, president and CEO, K-State Alumni Association
Alan Fankhauser '82, assistant director of alumni programs, K-State Alumni Association
F. Todd Goodson, professor and chair of curriculum and instruction, assistant dean of teacher education and accreditation, College of Education, Kansas State University
Paloma Roman '19, admissions representative, K-State
Maddy Mash and Tel Wittmer, K-State Student Ambassadors
Menu
Hamburgers, chips and sides

Cost
$5 per person, adults and students 11 and older
No cost for high school students (classes of 2020 and 2021), community college or current K-State students.

Reservations - Due by Sept. 16
RSVP Online
By phone: 785-532-6260
By mail: Complete and mail the registration form (PDF). 

Questions
Nancy Sundahl '73: 620-793-5894, nsundahlmk@cpcis.net 
Jennifer Pfortmiller '96: 620-786-5845, sjpfortmiller@hotmail.com 
Contact
K-State Alumni Association

Phone: 785-532-6260