Thursday, Apr 22, 2021

Traveling Wildcats
April 22- May 10 | Explore exotic landscapes and cultures cruising Mexico, Central America, and the Caribbean on an eighteen-night journey aboard Oceania Cruises' Regatta.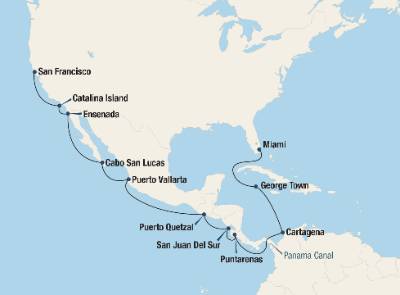 Embark in San Francisco and sail to Catalina Island, where beaches, hiking trails, and Mediterranean climate invite you to explore the great outdoors in this vacationer's wonderland. Then sail south to Mexico. Visit the celebrated Valle de Guadalupe wine region outside of Ensenada. Take in a sublime desert landscape and water activities in Cabo San Lucas. And enjoy an invigorating mix of art and entertainment along Puerto Vallarta's Malecón esplanade. Sail on to new discoveries along the tropical coasts of Central America. From Puerto Quetzal, head to UNESCO-listed Antigua - see Guatemala's history built into the Spanish colonial architecture. In San Juan del Sur, take in surfers and sunset views from the Nicaraguan coast. And in Costa Rica, discover a painter's palette of exotic flora and fauna on a rain forest hike outside of Puntarenas. Cross the Panama Canal off your bucket list as you head toward the Caribbean Sea. Stop in Cartagena, where blooms spill over balconies of colonial mansions in the old town, a UNESCO World Heritage site. Before journey's end in Miami, sail to the Cayman Islands for a day in the beach lover's paradise of George Town.
Pricing starts at $4,599 including airfare. 
This trip is offered by Go Next.
Contact
Terin Walters

Phone: 785-532-6260