Friday, Apr 30, 2021

Traveling Wildcats
April 30 - May 9 | Commemorate the historic D-Day landings during this, eight-night Celtic Lands journey.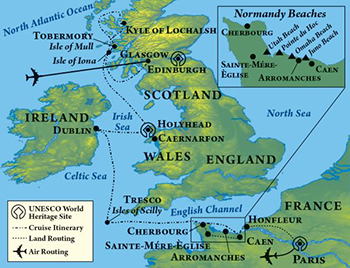 By exclusive arrangement, visit the hallowed Utah and Omaha Beaches in Normandy, France, with Dwight David Eisenhower II, grandson of General and President Dwight D. Eisenhower, and meet Allen Packwood, Director of the Churchill Archives Centre at the University of Cambridge. Cruise aboard the exclusively chartered, Five-Star small ship Le Dumont -d'Urville from Glasgow, Scotland, to Wales, Ireland, England and France, with guided excursions in each port of call. Admire the austere beauty of the Inner Hebridean Isles of Iona and Mull and the storied treasure of Iona Abbey; walk in the footsteps of medieval and present-day princes in North Wales; visit UNESCO World Heritage-designated Caernarfon Castle near Holyhead, Wales; and view relics of the rich Celtic literary heritage at Trinity College in Dublin, including the Book of Kells. Glasgow and Edinburgh Pre-Program and Paris and Giverny Post-Program Options available.
Pricing starts at $6,995.
This trip is offered by Gohagan.
Contact
Terin Walters

Phone: 785-532-6260