Panama Canal and Costa Rica
Sunday, Feb 21, 2021

Traveling Wildcats
Feb. 21 - March 1 | Join us for this incomparable nine-day journey from the Costa Rican rainforest through the mighty locks of the Panama Canal - an experience unmatched for sheer drama and engineering prowess.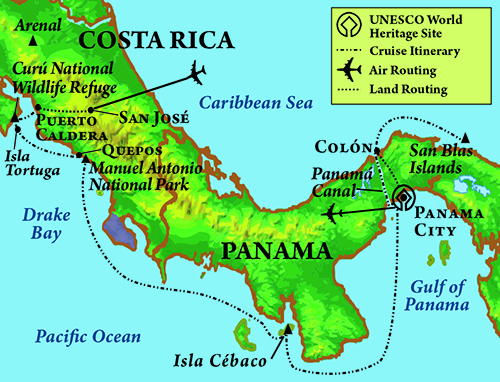 Spend one night in a deluxe hotel in San José, Costa Rica, then cruise for seven nights from Puerto Caldera, to Colón, Panama, aboard the exclusively chartered, Five-Star Le Dumont-d'Urville, launched in 2019 and featuring the world's first multisensory Observation Lounge. Experience a daylight passage through the awe-inspiring Panama Canal and explore the terrestrial wonders of Costa Rica's Manuel Antonio National Park and Curú National Wildlife Refuge. Call at rarely visited Isla Cébaco and discover the rich marine life in its vivid rock reefs. Tour Panama City, including its Casco Antiguo (Old Quarter), a UNESCO World Heritage site, and visit the San Blas Islands, where the indigenous Guna people maintain their centuries-old traditions. Enjoy lectures by exclusive onboard study leaders throughout the itinerary. Extend your stay with the Landscapes of Costa Pre-Program and Panama's Renaissance Post-Program Options. 
Pricing starts at $4,995.
This trip is offered by Gohagan.
Contact
Terin Walters

Phone: 785-532-6260