Friday, Oct 29, 2021

Traveling Wildcats
Oct. 29 - Nov. 16 | Exotic, diverse, intriguing … Southeast Asia is revealed on this comprehensive, well-paced 19-day small group adventure, from stunning natural wonders to timeworn temple ruins and energetic cities both ancient and modern.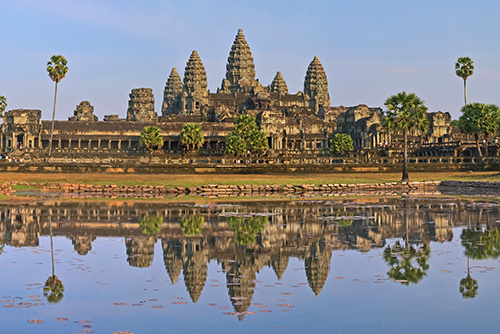 Set out with no more than 24 fellow travelers to discover Hanoi, the French-accented Vietnamese capital, with its Ho Chi Minh mausoleum, infamous "Hanoi Hilton" prison, and bustling Ancient Quarter.  On a full-day excursion to breathtaking Ha Long Bay, cruise aboard a traditional "junk" through this fairytale seascape, a UNESCO site.  Spending the following two nights in a riverside hotel in charming Hoi An, ride a boat to the lively daily market, stroll through Old Town, and enjoy an interactive Vietnamese cooking class.  Visit the acclaimed Cham Museum.  An unforgettable experience awaits with three nights in Siem Reap, Cambodia:  extensive touring of the astounding Angkor Wat complex, a UNESCO site.  Next, for a unique introduction to Laos, watch a "tak-bat" alms-giving ceremony in Luang Prabang.  Explore this ancient city and join in a community-based rice farm's activities.  Boarding a private riverboat, embark on a two-day cruise along a remote stretch of the Mekong, visiting hill tribe villages and overnighting in a riverside lodge.  Reaching Thailand, meet the magnificent animals in an elephant sanctuary.  With three final nights in Bangkok, absorb life in Thailand's fascinating capital, including the colorful Flower Market, a tuk-tuk ride to the renowned Wat Pho Temple, and the Jim Thompson House with its prized silk collection.  Encounter sophisticated Singapore with an optional 4-day/3-night extension post-tour extension.  
Pricing starts at $6,297 including airfare.
This trip is offered by Odysseys.
Contact
Terin Walters

Phone: 785-532-6260