Monday, Apr 12, 2021

Traveling Wildcats
April 12 - 23 | Travel around the picturesque coasts of Italy on this incredible trip aboard Oceania Cruises' Riviera. Your adventure begins in Rome, a city rich with antiquity and culture.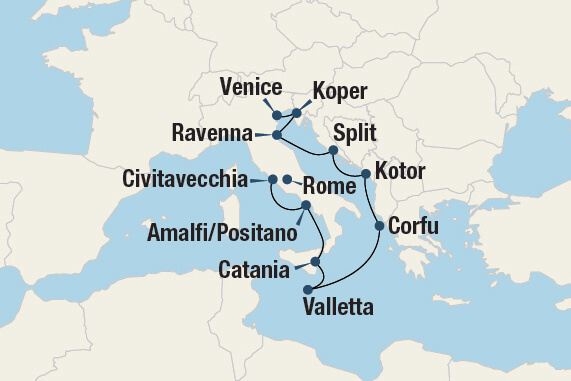 From there, sail to Amalfi and wander its pretty piazzas or travel to nearby Positano for incredible views while you relax in a café. Travel to Catania and discover its central square filled with elegant baroque buildings and the playful black-lava Fontana dell'Elefante statue, smiling high above the piazza. Next, visit Valletta, a UNESCO-listed capital teeming with limestone buildings and ancient fortifications. Relax along the coastline in Corfu or take in its colonial-style old town and Greek ruins. In Kotor, amble the narrow cobblestone streets and see Venetian architecture, then sail to Croatia to explore Split. Peruse the many restaurants and shops in town or climb up to the bell tower of St. Dominus Cathedral, the oldest Catholic cathedral in the world. Head next to Ravenna - lounge on one of the city's beaches, sip local wine in a sidewalk café, or explore the city's eight UNESCO-listed churches and mausoleums adorned with incredible early Christian mosaics. Your journey will end with a day in Venice, a city of canals, bridges, and charming red roofs, but first, stop off in Koper. Revel in its medieval ambience and take in sweeping views of the Gulf of Trieste from the top of the Cathedral of the Assumption.
Pricing starts at $3,099 including airfare.
This trip is offered by Go Next.
Contact
Terin Walters

Phone: 785-532-6260