Total Solar Eclipse Watch Party
3702 Frederick Ave.
St. Joseph, MO 64506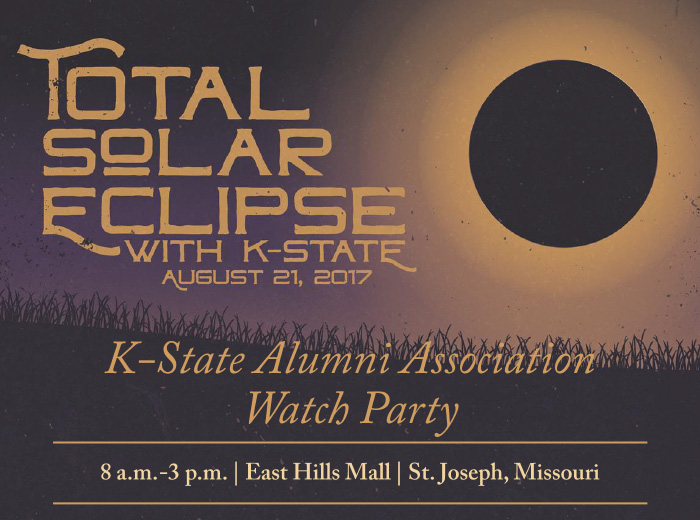 During the eclipse, the moon will cover the entire disk of the sun. It has been nearly 100 years since this last occurred. St. Joseph, Missouri, is in the direct path of the total eclipse and will offer one of the longest viewings - nearly three minutes in total darkness in the middle of the day.

The K-State Alumni Association's unique, family-friendly watch party is free to attend and will include a photo backdrop for photos with friends, a shaded gathering spot and access to East Hills Mall activities.
Mall activities will include a free indoor planetarium, special customer discounts with your K-State exclusive solar eclipse glasses at the mall all weekend, restaurants, food trucks, children's play areas and more. 

The mall and the parking lot will open at 6 a.m. Most stores will open by 7 a.m. The Alumni Association Watch Party will begin at 8 a.m.

Parking will be first-come, first-served basis, or there will be reserved parking available or purchase. More information on parking is available on the East Hills Mall website.


How to Prepare for the Total Solar Eclipse Watch Party
1. Download the Link for Life app for updates.
2. Bring a folding lawn chair or blanket.
3. Wear purple and bring your K-State spirit.
4. Wear sunscreen.
5. Bring water.
6. Wear the exclusive K-State solar eclipse viewing glasses (glasses will be given out at the watch party location).
7. Use #KState on your social media posts as you prepare for and experience the eclipse.
8. Map your travel plans to the watch party site. East Hills Mall has provided driving directions and parking information. The Alumni Association has created a map of the mall parking lot.
9. Make sure your cell phone is fully charged. Bring a a solar-powered phone charger if you have one.
10. Have fun!

Learn more from Kansas State University on the Total Eclipse.


Contact:
Jessica Elmore

Phone: 800-600-2586

Categories: