Wednesday, Jan 08, 2020

Traveling Wildcats
JAN. 8-15 | Join us as we explore the Galapagos Islands, "one of the most biologically unique places on earth. Undiscovered by Europeans until the 16th century, the Galapagos Islands hold a central position in modern history as the birthplace of the theory of evolution. Designated the first UNESCO World Heritage Site in 1978, the Galapagos Islands are home to a fascinating array of wildlife inhabiting an unspoiled ecosystem, living in harmony with their human visitors.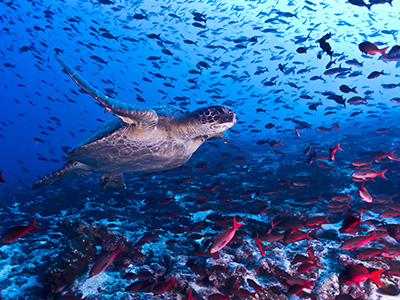 This exciting journey features a day of guided touring in Quito plus an intimate cruise through the archipelago with up-close access to endemic species. Expert naturalists guide you through the wonders of this national park, whale sanctuary, and marine reserve.

Each island in this volcanic archipelago hosts species that are exquisitely adapted to the available food sources and surrounding environments: the marine iguana, which eats mostly algae and is the only sea-going lizard in the world, and the Galapagos tortoises, "some species of which were hunted to the brink of extinction by 18th- and 19th century whalers. You can also observe how species have evolved to interact with each other, "certain Darwin's finches have developed a symbiotic relationship with land iguanas, who will obligingly raise themselves up from the ground so that the birds can more easily pluck parasites from their bellies. Because the human presence is still relatively minimal, many of the animals are remarkably unafraid of visitors.

Your accommodations for this adventure are aboard Isabela II, a 40-guest vessel with spacious cabins, local cuisine, and a staff dedicated to ensuring both your comfort and maximum enjoyment of this truly extraordinary destination and its diverse inhabitants.
Pricing starts at $4,995 plus air, double occupancy.

This trip is offered by Orbridge.


Contact
Terin Walters

Phone: 800-600-2586