Garden City Catbacker Event
Tuesday, May 21, 2019

Garden City, Kansas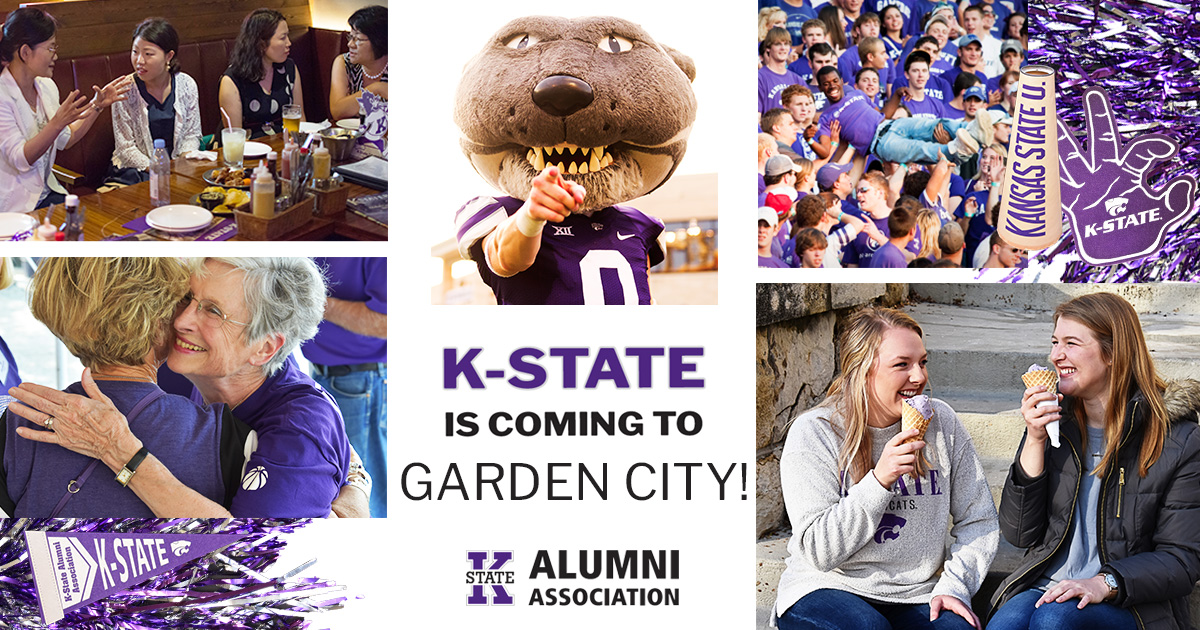 All K-State alumni and friends are invited to this Catbacker Tour golf tournament and dinner. Registration for golf and dinner is due May 14.
K-State Guests

Chris Klieman, head football coach
Bruce Weber, head men's basketball coach
Mike Dibbini, women's soccer head coach
Chris Carr, women's basketball assistant coach
Amy Button Renz '76, '86, president and CEO, K-State Alumni Association
Gene Taylor, athletic director
Josh McCowan '09, '11, senior associate athletic director of development and advancement, K-State Athletics
Austin Schilling, senior director of development, K-State Athletics
Alan Fankhauser '82, assistant director of alumni programs, K-State Alumni Association
Taylor Braet '08, director of football recruiting
Susan Shipman '88, senior director of stewardship, hospitality and events, K-State Athletics
Matt Giller '11, director of development, K-State Athletics
Tracer Paul '18, assistant director of development, K-State Athletics
Leon Jackson, director of annual giving, K-State Athletics
Chayce Wynn '16, admissions representative, Kansas State University
Wyatt Thompson, director of sportscasting and public relations, Voice of the Wildcats, K-State Athletics
Willie the Wildcat
GOLF TOURNAMENT - Thursday, May 30
The Golf Tournament was rescheduled for Thursday, May 30 due to weather. Deadline to sign up is Wednesday, May 29. RSVP Online

Hole-in-one wins a 2019 Dodge Charger courtesy of Legacy Chrysler Dodge Jeep Ram!
The Golf Club at Southwind
77 Grandview Drive
Garden City, Kansas

11 a.m. Check-in and lunch
12:30 p.m. Shotgun start

Cost
$125 per person: Includes green fees, cart, lunch, mulligan and a sleeve of golf balls
Questions
Grant Elpers: 620-271-1277 (c)

K-STATE NIGHT - DINNER AND MORE! - Tuesday, May 21
Families will enjoy games, inflatables and more! All kids in attendance will receive a clear drawstring bag full of goodies. Unique athletic commemorative items and ticket packages only available at this event. 

High school students (class of 2019 or 2020) and community college transfers who attend will receive a free K-State T-shirt. A scholarship drawing for Finney County area incoming 2019 K-State freshmen and transfer students will be held for those students in attendance at the event.

Alumni are encouraged to sponsor one or more prospective students to give them an opportunity to learn about K-State.

Clarion Inn
1911 E. Kansas Ave.
Garden City, Kansas
Please use ballroom entrance.

5:30 p.m. Doors open
6 p.m. Dinner begins
6:30 p.m. Program begins

Cost
$20 per person in advance
$25 per person at the door
$10 per child age 12-high school sophomore
Children age 11 and younger may attend for free.
No charge for high school students (classes of 2019 or 2020) or community college transfer students

K-State Night Registration - Due by Tuesday, May 14
RSVP Online
By phone: 800-600-2586
By mail: Complete and mail the registration form (PDF). 
Contact
K-State Alumni Association

Phone: 785-532-6260