Wednesday, Oct 06, 2021

Traveling Wildcats
Oct. 6 - 14 | Cruise with us for seven nights from Barcelona to Rome aboard the exclusively chartered, Five-Star, small ship Le Jacques Cartier.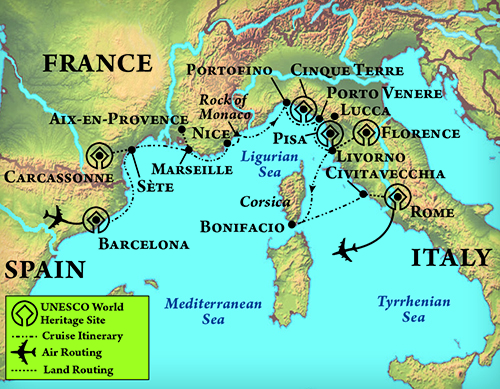 Enjoy the sun-drenched landscapes and lush, mountainous backdrops of the French and Italian Rivieras and islands, renowned as a glamorous retreat for artists, writers, nobility and gourmands. This unique, comprehensive itinerary immerses you in the region's dynamic history, inimitable art and culture and stunning scenery, featuring up to five UNESCO World Heritage sites, including Carcassonne's medieval fortifications and the picture-perfect cliffside villages of Italy's Cinque Terre. Choose to visit the Renaissance treasures of Florence or the Tuscan cities of Pisa and Lucca. Discover Corsica's fortified town of Bonifacio and the cultural treasures of Aix-en-Provence. Along the enchanting Côte d'Azur, explore the legendary Rock of Monaco - the epitome of Riviera chic and home of St. Nicholas Cathedral, where Princess Grace Kelly is interred; experience the vibrant Vieux Port in historical Marseille and explore charming Nice. Barcelona Pre-Program and Rome Post-Program Options. 
Pricing starts at $4,995.
This trip is offered by Gohagan.
Contact
Terin Walters

Phone: 785-532-6260