Friday, Oct 15, 2021

Traveling Wildcats
Oct. 15-26 | See the colors of the Mediterranean on this incredible ten-night voyage aboard Oceania Cruises' Marina. Begin your travels in Venice, a timeless city of bridges and marble palaces.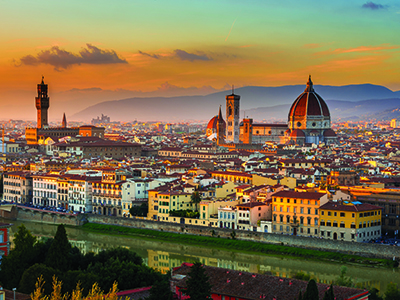 Sail to Croatia and explore the historic city of Split, built around the Roman palace of Diocletian, which is now a UNESCO World Heritage site. Next, head to the island of Sicily and visit Syracuse - discover ancient Greek ruins like the Teatro Greco and the Ear of Dionysius. In Naples, savor artistic treasures and mouthwatering cuisine, or travel to the nearby ruins of Pompeii, one of the most spellbinding archaeological sites in the world.
Then stop in Rome, once the center of the world's greatest empire. Experience legendary sites like the Colosseum and Michelangelo's frescoes in the Sistine Chapel. Spend a day in Florence, where the artistic masterpieces of the Renaissance await you. Travel to see the Leaning Tower of Pisa, or wander the Tuscan hills. In Monte Carlo, take in the swanky Monte Carlo Casino. Then, voyage to Marseille and walk through the ancient Le Panier neighborhood or visit the idyllic Provençal countryside. Before your journey ends in Barcelona, discover historic sites in Palma de Mallorca like the Arab Baths, or stroll the Playa de Palma, a nearly four-mile-long beach lined with shops and cafés.
Pricing starts at $2,849, airfare included
This trip is offered by Go Next.
Contact
Terin Walters

Phone: 785-532-6260