Vote for 2021 K-State Student Ambassadors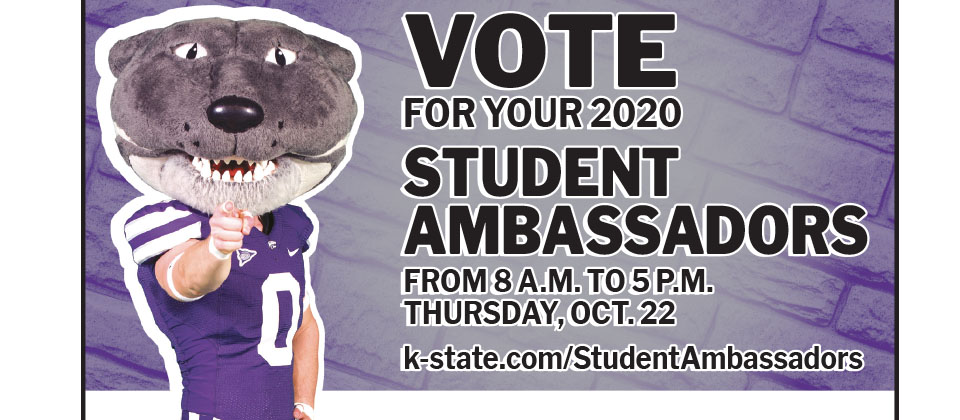 Happy Homecoming Week, Wildcats! For more than 40 years the Kansas State University student body has elected two Student Ambassadors during All-University Homecoming to represent their peers and the K-State Alumni Association at alumni and university events. Thursday, K-State students will continue that tradition.
Students may vote for the male and female candidates of their choice here. The polls will be open from 8 a.m. to 5 p.m. Thursday, Oct. 22.
Ambassadors serve a one-year term, and each receive a $2,500 scholarship, clothing from Borck Bros. and the official K-State ring from the Alumni Association.
This year's candidates are:
Jeff Ebeck, sophomore in finance and accounting
Max Harman, junior in biochemistry and global food systems leadership
Bennett Shipley, junior in marketing
Sydney Henry, junior in finance and marketing
Marissa Lux, junior in communications studies
Stacia Mendoza, sophomore in marketing
The winners will be announced during the Homecoming football game on Saturday, Oct. 24.
This year's Homecoming theme is K-State Family Game Night and marks K-State's 105th Homecoming celebration. Homecoming is a universitywide celebration sponsored by the K-State Alumni Association. For more information on Homecoming and the Student Ambassadors program visit www.K-State.com/Homecoming.
---