Must-try K-State chocolate recipes for World Chocolate Day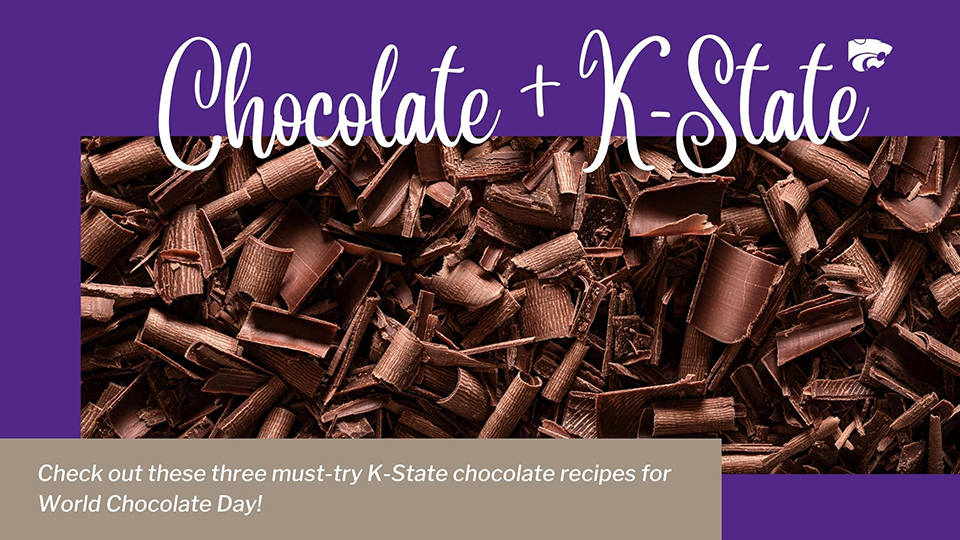 Love K-State and chocolate? 💜 🍫 So do we! Try out one of these tasty recipes for World Chocolate Day on July 7.


Chocolate Mousse from Lacy's Fresh Fare and Catering
Special thanks to Ericka Bauer, manager of Lacy's Fresh Fare and Catering with K-State's College of Health and Human Sciences, for supplying this recipe. Located inside Justin Hall, Lacy's Fresh Fare and Catering is run by students; it includes a quick-service restaurant and catering services.

Step 1: Place dark chocolate chips (6.09 oz) and instant coffee (0.12 oz) in a saucepan. On low to medium heat, begin melting the chocolate chips. Once the chips have begun to melt, add the heavy cream (4.09 oz). Stir the chocolate cream mixture until you have a smooth creamy texture. Take off heat and set aside for a later step (cool at least 20 minutes).

Step 2: In a bowl, combine heavy cream (11.71 oz), vanilla extract (0.11 oz) and confectioner's sugar (0.43 oz). Using a wire whisk, on low speed, mix items until stiff peaks form.

Step 3: Gently whisk, on low speed, the chocolate cream into the whipped cream 1 cup at a time until completely combined. Place mousse in pans, 2" full and chill for one hour. At this time, you can place in piping bags for service – or place in an appropriate serving dish. Cover and chill until ready to serve. Optional: Garnish with fresh raspberries.

Have questions about cooking with ounces as the measurement? You can find an easy-to-use calculator here.


Try out these other chocolate treats from our K-State tailgate recipes collection!
---