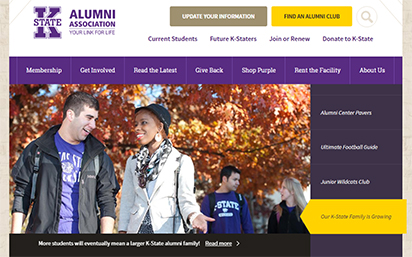 Welcome to the new design for @K-State!
Welcome to the new design for @K-State, the monthly K-State Alumni Association e-newsletter. After months of research, development and testing, we're excited to introduce this new look to you. We've designed the newsletter to be cleaner, simpler to navigate and in a format that's easier to use on a variety of devices, whether you prefer to read our newsletter via smartphone, tablet, laptop or PC.
Based on reader feedback, we've added a new section to the newsletter highlighting articles from each of the colleges at K-State. Going forward each month, you'll receive an email that links you to the actual newsletter. The cover email will preview several of the newsletter articles, along with a preview article from your college. The corresponding college article in your personal email is based on the preferred degree linked to your email address in our alumni database. If you are a friend or supporter who did not graduate from K-State, we have a special section for you too. Once you click into our newsletter, you can scroll up and down to access a variety of articles from the University, the Alumni Association, Athletics, the Foundation, the colleges and more.
After you finish reading the latest issue of our newsletter, we invite you to explore the rest of our website, which also has an updated look. On our home page, you'll find a simpler navigation system that makes it easier to get involved and find the information you need. You can view the latest news articles or learn about upcoming Alumni Association events. Our brand-new Alumni Clubs map also makes it easier to locate clubs across the state, the country and the globe. You can also show off your purple pride and stock up on K-State gear in our Shop Purple section.
We hope you like the new look for our newsletter and our website, and we hope you enjoy using them to stay connected to the K-State Alumni Association. Thank you for supporting K-State. Go 'Cats!
Ashley Pauls
@K-State editor