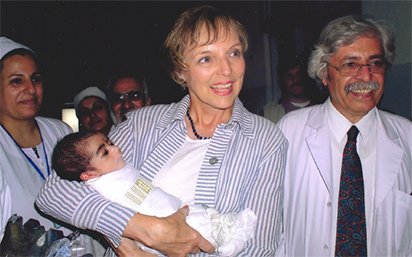 Legacy of service: Mary Jo Rupp Myers receives 2018 Alumni Excellence Award
Although Mary Jo Rupp Myers '64 has traveled all over the world, met many people and seen many places, there's one experience that stands out to her and holds a special place in her heart.

During a trip to Afghanistan to deliver school supplies, she met a little boy who made a lasting impression on her.

"He came over to thank me, and he looked at me with his big poignant eyes and said, 'Please don't forget us,'" Myers said. "And I'm not — I'm not forgetting them."

Myers has been a friend to many children in need, as a founding member and president emeritus of the Aschiana Foundation, an organization that supports literacy and vocational training for street children in Afghanistan.


Kansas State University's First Lady has spent more than 40 years serving charitable organizations and using her resources and talents to help others. For her efforts, she was recognized with the K-State Alumni Association's 2018 Alumni Excellence Award at a banquet Nov. 9. The Alumni Excellence Award is an annual award recognizing an alumna or alumnus of K-State whose career, service and achievements exemplify the spirit, values and excellence of the university.

"True fulfillment comes from reaching out to help others," Myers said. "If you see a need, just get involved."

Rooted in her Kansas upbringing (born in Abilene and raised in Manhattan), Myers has built a rich legacy of public service related to military, educational and humanitarian organizations and programs.

She currently serves on the Women's Initiative Policy Advisory Council formed by Laura Bush as part of the Bush Foundation. She also serves on the board of trustees for the Fisher House Foundation, an organization that provides homes near military and veterans' medical centers where military family members stay free of charge while loved ones are being treated.

Watch our 2018 Alumni Excellence Award video to see more ways that Myers has given back:



The Alumni Excellence Award is made possible by the generosity of the Curt and Sherry Frasier family of Beloit, Kansas. Both are 1973 graduates of K-State.

You can read a full-length feature story about this year's Alumni Excellence Award in the winter 2018 issue of the K-Stater magazine. Not an Alumni Association member? Learn how you can sign up to receive the K-Stater magazine and other great benefits.

— Special thanks to Tim Schrag '12, K-Stater editor, for his contributions to this article.