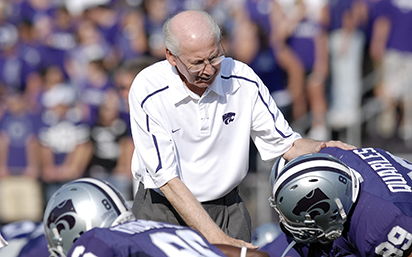 Thank you, Coach Snyder - the Alumni Association looks back
Thirty years ago, not everyone in the world of college football believed that the Kansas State Wildcats were ready for a comeback.

But Bill Snyder did.

When Snyder was hired by Kansas State University in November 1988, the K-State football team had not won a game since October 1986 and had a 299-510 record overall. However, what Coach Snyder saw was potential, possibility and opportunity.

By now, almost every Wildcat football fan knows Snyder's "greatest turnaround" quote, but at that now-famous 1988 press conference, the concept was still just a glimmer of hope.

"It's a tremendous challenge here," he said. "And I think [that] the opportunity for the greatest turnaround in college football exists here today, and it's not one to be taken lightly."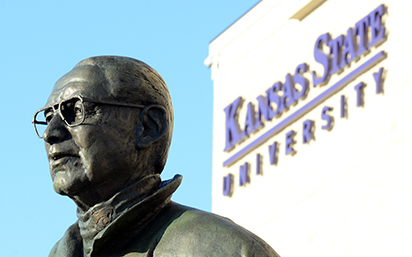 Snyder certainly did not take that challenge lightly, and he ended up accomplishing exactly what he said he would. And Kansas State University would never be the same.

Snyder is the winningest coach in K-State football history, with a 215-117-1 record overall. Although he has now retired as head football coach, he will transition to a special ambassador role for the university.

"He came here, and stayed here, because of the people," K-State president Richard Myers '65 said. "He made us a family — a proud purple family who travel in record numbers to watch him lead the Wildcats to victories, bowls and rankings never achieved before. Coach Snyder has always taken the time and care to turn his players into college graduates, community leaders, successful businessmen and leaders of strong families. Bill Snyder is a legend, and his legacy is one that K-Staters for generations will value and cherish."

Expect to win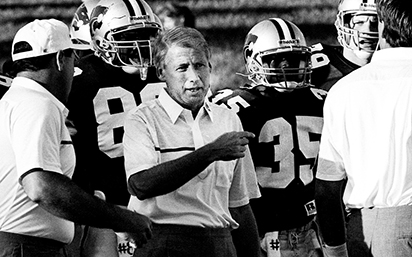 Snyder came to K-State after serving as offensive coordinator, quarterback coach and receiver coach at the University of Iowa.

The February 1989 issue of the Alumni Association's K-Stater magazine says Snyder was originally attracted to K-State because of the similarity between the university and his past coaching experiences.

"I've met the same kind of people at K-State that we met when we came to Iowa," he said. "They're tremendously caring and very concerned. The time seems right at K-State."

This certainly wasn't the last time Snyder appeared in the K-Stater, as his accomplishments continued to make headlines.

You could fill pages and pages with stats from Snyder's tenure as coach — he led K-State to 19 of the school's 21 bowl appearances, won two conference titles, achieved two No. 1 national rankings and was inducted into the College Football Hall of Fame.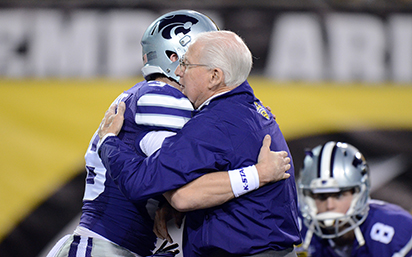 However, Snyder's legacy impacted more than just the football field. His 16 Goals for Success — including principles like commitment, unity and self-discipline — provided a code to live by for many K-Staters. He also inspired a university and community-wide revitalization, that included K-State's enrollment jumping from about 18,000 when he was hired to a record of more than 24,000.

"Coach, thank you!" former player Collin Klein '11 tweeted after Snyder's retirement announcement. Klein is now a quarterbacks coach for K-State. "Beyond the lessons, speeches and schematics, watching you live your life daily has been the ultimate privilege. The respect, discipline, attention to detail and caring leadership with how you lived is inspiring. Will always be in your debt!"

"The impact of his time here will never be forgotten," Amy Button Renz '76, '86, president and CEO of the K-State Alumni Association, wrote in a letter to alumni and friends. "His core principles and ideals exemplify the very best of K-State, and his personal touch has reached thousands of members of the Wildcat family, and even other universities."

From the entire Wildcat community: thank you, Coach Snyder. Because of you, we'll never give up, and we'll never stop expecting to win.


— Special thanks to K-State Athletics for supplying information for this article.