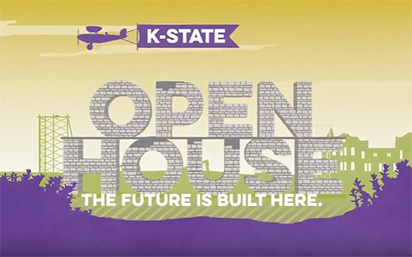 Alumni and friends invited to explore K-State at annual All-University Open House
Alumni and friends are invited to come home to K-State during the annual All-University Open House on Saturday, April 1. The event is a chance for members of the Wildcat community and prospective students to explore the campus and learn more about K-State.
Every year, approximately 20,000 people flock to K-State's carnival of academic exhibits, entertainment, food and fun. The open house showcases the university's 250-plus majors and options, 475-plus student organizations and the family atmosphere that makes K-State stand out.
The event is open to all ages, and admission is free. This year's theme is "The Future is Built Here."
The different colleges have a chance to show off their programs with special demonstrations and hands-on activities for visitors. Other activities throughout the day include opportunities to visit the nuclear reactor at Ward Hall; take photos with Willie the Wildcat; participate in a short service project at the School of Leadership Studies; learn to Wabash with the K-State Marching Band; and more.
If you're looking for a bite to eat, you'll find a variety of options across campus, including a pancake feed, homemade baked goods, barbecue and more.
The event at the Manhattan campus is from 9 a.m. to 3 p.m., and at the Olathe and Polytechnic campuses from 9 a.m. to 2 p.m.
Learn more about the open house or watch a video below.