Community invited to Distinguished Young Alumni presentations Feb. 27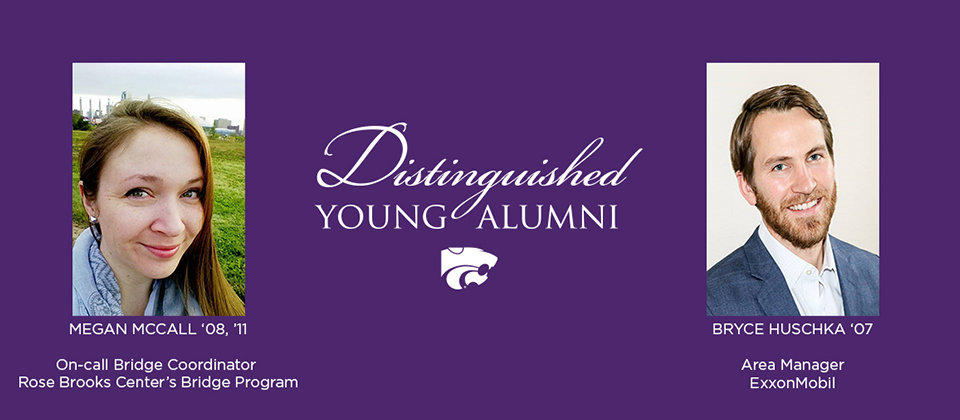 The K-State Student Alumni Board, a program of the K-State Alumni Association, will honor the 2018 Distinguished Young Alumni Award recipients, Bryce Huschka and Megan McCall, on Feb. 27.
The award, established in 2012, recognizes two Kansas State University graduates who are younger than 35 and are using the scholarship, leadership and service experience they acquired at K-State to excel in their professions and contribute to their communities.
Huschka and McCall will return to campus Feb. 26-28 to visit with student groups and university classes. The K-State community is invited to attend their keynote presentations Feb. 27 in Town Hall in the Leadership Studies Building. McCall's presentation will begin at 3:30 p.m. A casual reception will take place from 4-4:30 p.m. in the lobby of the building, followed by Huschka's presentation at 4:30 p.m.
"Bryce and Megan have accomplished so much very early in their careers," said Marcus Kidd, assistant director of student programs for the Alumni Association and Student Alumni Board adviser. "They are great examples of K-Staters who learned how to be leaders through their college experiences. Those experiences molded who they are today and contribute to their successes both personally and professionally. We encourage everyone to join us for the keynote presentations, which are sure to be inspiring not only to current students but also to alumni, faculty and staff."
Huschka, a native of Ottawa, Kansas, is the area manager for ExxonMobil. He graduated from K-State in 2007 with concurrent bachelor's and master's degrees in industrial engineering. While at K-State, Huschka was a member of Lambda Chi Alpha fraternity, Student Governing Association, Student Alumni Board and served as the All-University Open House chair.
McCall, a native of Goodland, Kansas, is a remote on-call Bridge coordinator with Rose Brooks Center's Bridge Program. She graduated from K-State in 2008 with a bachelor's degree in sociology and in 2011 with a master's degree in sociology. While at K-State, McCall was a member of Phi Beta Kappa honor society, the Conversational English Program, served as treasurer of the Flint Hills Human Rights Project and as a liaison for Parents and Families of Lesbians and Gays. Additionally, she volunteered and worked at The Crisis Center, the domestic violence shelter that serves Riley, Clay, Geary, Marshall and Pottawatomie counties and was involved with Take Back the Night and Little Apple Pride programs.
---