Mary Jo Rupp Myers to receive K-State Alumni Association's Alumni Excellence Award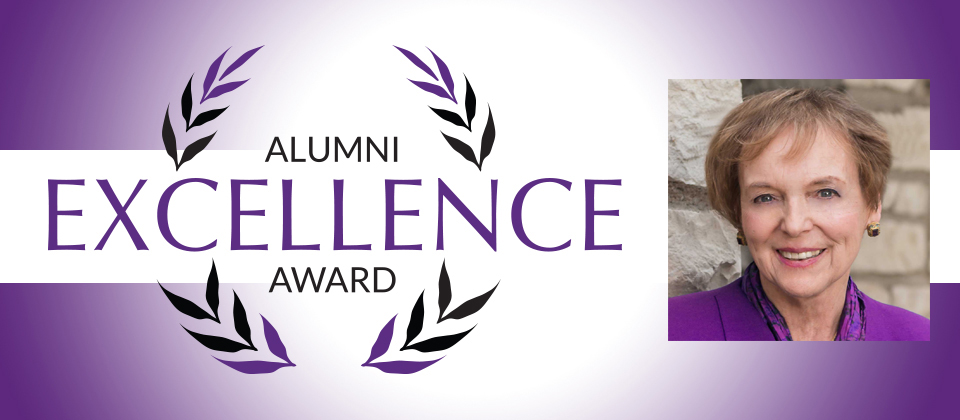 The K-State Alumni Association will honor Kansas State University alumna Mary Jo Rupp Myers as the 2018 recipient of the Alumni Excellence Award. She will receive the award at a banquet on Friday, Nov. 9, at the K-State Alumni Center.
The Alumni Excellence Award is an annual award recognizing an alumna or alumnus of K-State whose career, service and achievements exemplify the spirit, values and excellence of the university.
"We created the Alumni Excellence Award to showcase and celebrate our K-State alumni for their contributions to society," said Amy Button Renz, president and CEO of the Alumni Association. "We have many graduates who have achieved great things in their careers and service to the world. The Association is honored to recognize Mary Jo Myers with this award for her achievements."
Myers has a rich background in public service related to military, educational and humanitarian organizations and programs. A military spouse for more than 40 years, Myers is married to K-State President Richard Myers, a retired Air Force general and former chairman of the Joint Chiefs of Staff. She has won multiple awards for her humanitarian work. She currently serves on the Women's Initiative Policy Advisory Council formed by Laura Bush as part of the Bush Foundation. Previously, Myers was appointed to the President's Council on Service and Civic Participation in February, 2006 and served through 2009.
She continues her dedication to the military by serving on the board of trustees for the Fisher House Foundation, an organization that provides homes near military and veterans' medical centers where military family members stay free of charge while loved ones are being treated. She was instrumental in establishing the "Hero Miles" program operated by Fisher House Foundation that uses donated frequent flyer miles to purchase tickets for families of hospitalized military members to visit their loved ones.
Additionally, Myers serves as the sponsor of the U.S.S. Somerset. This ship was named specifically for Somerset County, Pennsylvania, in honor of the passengers who died on United Airlines Flight 93, hijacked during the terror attacks of September 11, 2001.
She also serves on the National Military Family Association Advisory Council; she is a founding member and president emeritus of the Aschiana Foundation, which supports literacy and vocational training for street children in Afghanistan; and is an advisory board member of MediSend, an organization that offers education, as well as medical equipment and supplies to charitable hospitals and clinics around the world. She received their first Humanitarian Award in 2004. Other awards include The Spirit of the USO Award and National Defense University's American Spirit Award in 2005.
Myers is a partner in an online business importing handcrafted items from Russia. She recently retired as associate director of public affairs at Hayes and Associates and was an educator in secondary and adult education.
Myers earned a bachelor's degree in English from K-State in 1964 and remains active in support of her alma mater. She is currently on the KSU Foundation's board of trustees and is a co-chair of the Inspiration and Innovation Campaign and has served on the K-State Alumni Association's board of directors.
The Alumni Excellence Award is made possible by the generosity of the Curt and Sherry Frasier family of Beloit, Kansas. Both are 1973 graduates of K-State. For more information about the awards programs, visit www.K-State.com/awards or call the K-State Alumni Association at 800-600-2586.
---