Alumni Association celebrates 10 years of Iman Awards
A decade ago, the K-State Alumni Association and Ron '62, '70, '73 and Rae Iman partnered to find a way to build a deeper connection between the Alumni Association and the faculty at Kansas State University. They created the Iman Awards, and every year since, the Association and the Imans have honored two outstanding K-State faculty members for teaching and research.
On Sept. 26, the Association and the Imans celebrated 10 years of Iman Award winners while honoring two new award recipients, P.V. Vara Prasad and Dr. Robert L. Larson '85, '87, '92.
"This is always one of my favorite events," Amy Button Renz '76, '86, K-State Alumni Association president and CEO, said during the event. "We're celebrating the 10th anniversary of this very special program. We're excited that we have such distinguished faculty members who are recognized."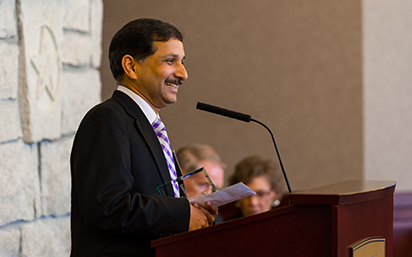 Prasad, who received the Outstanding Faculty Award for Research, is a university distinguished professor and director of the Feed the Future Innovation Lab for Collaborative Research on Sustainable Intensification in the College of Agriculture. He is an internationally recognized researcher who focuses on understanding responses of food grain crops to changing environments, and he is committed to innovative, collaborative research and capacity-building activities that enable families of smallholder farmers to become food and nutritionally secure and improve their livelihoods.
College of Agriculture Dean John Floros nominated Prasad for the award and said Prasad has secured more than $60 million in grants and contracts in less than 15 years at K-State. He is helping K-State reach its goal to become a top 50 public research university by 2025.
"This is a huge success for us as a university, this is a huge success for us as a college, and this is a huge success for him as a researcher," Floros said. "Dr. Prasad is an outstanding faculty member."
"It's been a great pleasure working with K-State, and I hope to contribute more as I go along," Prasad said.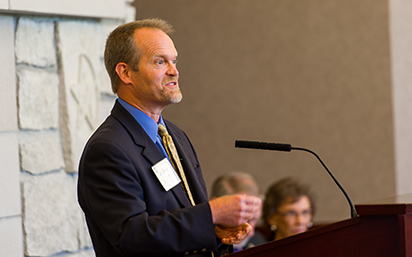 Larson, who received the Outstanding Faculty Award for Teaching, is a professor and Edgar E. and M. Elizabeth Coleman Chair of Food Animal Production Medicine in the College of Veterinary Medicine. After spending some time in private practice, he decided to try academia before going back to practicing veterinary medicine. However, he loved working with students so much he decided to stay.
Dr. Bonnie Rush, executive associate dean and professor in the College of Veterinary Medicine, said Larson's students describe him using words like innovative, gifted, energetic and enthusiastic. He is a critical part of the College of Veterinary Medicine and is board certified by the American College of Theriogenologists, the American College of Animal Nutrition and the American College of Veterinary Preventative Medicine - Epidemiology specialty.
"You have certainly earned this award, and I appreciate all you have done for our students," Rush told Larson.
"I really feel honored to receive this recognition," Larson said. "I'm just one of many dedicated faculty at this great university."
Learn more about the Iman Awards program.