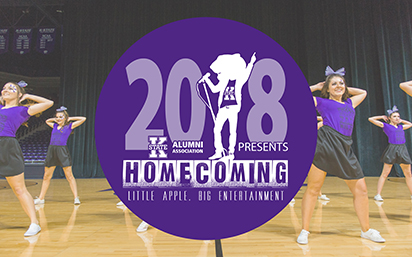 Little Apple, Big Entertainment: K-State Homecoming 2018 preview
Manhattan, Kansas, may not be surrounded by skyscrapers or millions of people like Manhattan, New York. However, the "Little Apple" still offers plenty to see and do, with a charm all its own.

"Little Apple, Big Entertainment" is the theme of Kansas State University's Homecoming 2018, Oct. 7-13. Homecoming is sponsored by the K-State Alumni Association and includes activities for all ages, ranging from students to families.

"It's something all generations are able to connect to," said junior Caroline McFeeters, who is serving on the Alumni Association's Student Homecoming Committee for the first time.

Fellow committee member and senior Eli Berner said this theme actually came up last year for consideration, and it made such an impression that it was proposed again this year. Berner said he's excited this theme is getting its turn in the spotlight.

"I really like the theme," he said.

The members of the Student Homecoming Committee are behind-the-scenes rock stars who help make all the Homecoming events possible.

Berner served on the committee last year, and is now an intern in charge of the 5K event.

"I really enjoyed doing it last year," he said. "I want to make more of an impact, to give more of myself."

McFeeters said she joined the committee thanks to encouragement from Alumni Association President and CEO Amy Button Renz '76, '86, whom McFeeters looks up to as a mentor.

"Homecoming is always something I look forward to each year," she said.

Don't miss out on all the fun — check out the different Homecoming events in our gallery below. (File photos) Learn more about K-State Homecoming 2018.