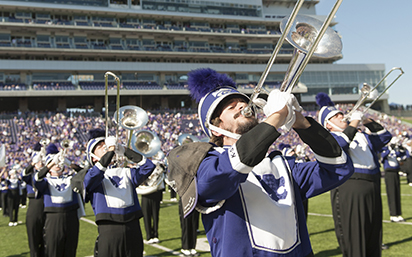 K-State fight song celebrates 90 years
When the Kansas State University Marching Band strikes up the first few notes of Wildcat Victory — the K-State fight song — during a football game, it doesn't take long for the thousands of fans packed into Bill Snyder Family Stadium to jump to their feet and start singing along.
Wildcat Victory has long been a favorite tradition at K-State athletic events, with K-Staters of all ages proudly singing the well-known lyrics that start with "Fight, you K-State Wildcats! For Alma Mater Fight-Fight-Fight!" This fall, the university will be commemorating the 90th anniversary of the fight song. The K-State Alumni Association also has put together a special video featuring members of the K-State community singing Wildcat Victory.
The fight song was the brainchild of music senior Harry Erickson '27. The director of Men's Glee Club, William Lindquist, asked Erickson to write a fight song since the university didn't have one and fight songs for schools were becoming more common.
Erickson, who went on to have a career in music education, said the song came to life during a long drive through the Flint Hills.
"I had to sing it to myself three or four times so I wouldn't forget it," he told the K-Stater magazine in 1982. "When I got home, I just wrote it out, and I gave it to Professor Lindquist the next morning."
The song debuted during the Men's Glee Club Missouri Valley Conference contest, February 1927. By that fall, the Kansas State Collegian reported that students were asked to memorize Wildcat Victory for Homecoming weekend activities, and it has been a K-State tradition ever since.
K-State's director of bands Frank Tracz, who is entering his 25th year at K-State, said he plans to have the band play a special arrangement of the song during the fall football season.
"I think it's one of the top five fight songs in the country," he said. "It's very spirited. Everybody knows it. Everybody sings along. It has a great melody line that is very singable — and that's important. The fight song is something unique here and special, because it was written by a student here, which is very unusual. I don't know of another university that has done that."
Read more about the history of the K-State fight song and a full profile of Harry Erickson in the fall issue of K-Stater magazine. Not a member of the K-State Alumni Association? Join now to receive benefits such as the quarterly magazine, annual wall calendar, K-State Campus Store discount and more.
— With reporting by Lindsay Porter '04, '07, K-State Alumni Association