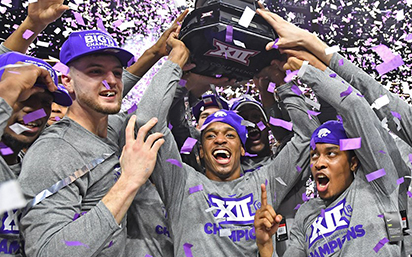 Wildcats celebrate Big 12 Championship; women's and men's basketball wraps up for the season
Purple and white confetti rained down onto the court at Bramlage Coliseum as the K-State men's basketball team lifted the Big 12 Championship trophy high above their heads, surrounded by cheering fans.

The Wildcats clinched the Big 12 regular season title on Senior Day, March 9, with a 68-53 win over Oklahoma in front of a sold-out crowd. Understandably, it was an emotional moment for seniors Barry Brown Jr., Kamau Stokes and Dean Wade, who combined to score 45 of those 68 points in their final game at Bramlage.

"It's bittersweet. We've done our time here," Wade said. "It definitely hit me walking off the floor for the last time. It's been an unbelievable journey."

"I think we all saw this day coming," Brown echoed. "We knew the work we put in year by year, day by day, to get to this point. We knew we were a good team. Maybe we had some tough losses, maybe we had some losses we shouldn't have had, injuries, but we still knew if we bought in every day, fought every day, played every game hard, like it was our last, that it was just a matter of time for us to get this thing."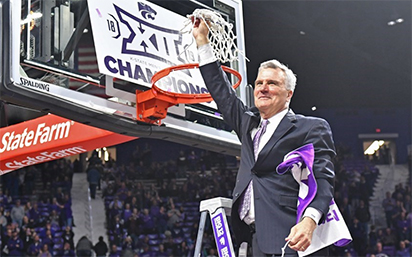 K-State shared the Big 12 Championship title with Texas Tech and entered the Big 12 Tournament the following week as a No. 1 seed. The team lost in the semifinals to Iowa State, who went on to win the tournament.

Sadly, the Wildcats' journey in the NCAA Tournament came to an end too soon, with a loss in the first round to UC Irvine. And even though the players commented on how much the loss hurt, they're proud of what they accomplished this season. And the younger players will keep carrying on the legacy left by Brown, Stokes and Wade.

"Their effort, their work ethic…they showed us everything," sophomore Levi Stockard III said. "They set great examples for us. We just have to follow their steps, carry the load. They showed us how to do it. Now we have to do it."

Wade sees a promising future ahead for K-State.

"We came from, obviously, being one of the worst teams in the Big 12 to winning the Big 12 this year," Wade said. "Hopefully it just starts the foundation for K-State basketball. Always work hard and you can do anything. You just have to believe in each other, even through rough times, like we did for a couple years there. Hopefully this foundation for K-State basketball keeps on growing."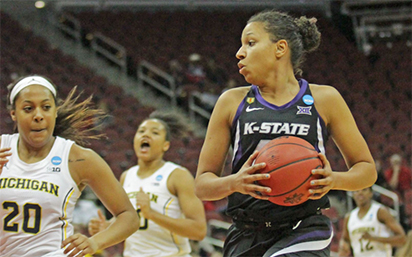 The K-State women's basketball team made a splash as a No. 5 seed in their first game during the Big 12 Tournament, defeating West Virginia 72-59, before falling to Baylor in the semifinals, 88-60.

They also made an appearance in the NCAA Tournament this year, but their season was ended by the Michigan Wolverines' 84-54 win.

Still, the 'Cats were proud that they made it to the tournament this year, and they're proud of how hard they fought to get there.

"I think it just put a chip on our shoulders because we knew we wanted to be in that NCAA Tournament last year, and we did not get in. I think it was good playing in the (WNIT), for sure, but it wasn't where we wanted to be," said sophomore Rachel Ranke. "We wanted to be in the NCAA Tournament. So, knowing that we're here now is exciting."

— Special thanks to K-State Athletics for supplying information for this article.