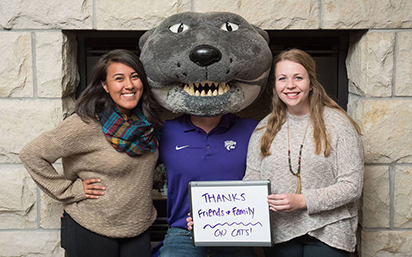 Pomp and circumstance: More than 1,500 earn degrees from K-State in fall commencement
Graduates celebrated the ending of one journey and the beginning of another, as they received their degrees during Kansas State University's fall commencement ceremonies and now prepare, as K-State alumni, to embark on their new careers.
K-State recognized more than 1,500 students as candidates for degrees during fall commencement ceremonies Dec. 8-9. The university awarded more than 1,300 bachelor's degrees, 240 master's degrees and nearly 50 doctorates. Around 170 of the degree candidates were distance education students.
"Today as you receive your degree, we are honored to recognize you and all you have accomplished," K-State Alumni Association President and CEO Amy Button Renz '76, '86 told students during commencement. "I am pleased to be part of this special day and offer congratulations on behalf of the K-State Alumni Association representing over 250,000 graduates and friends who will be your lifelong K-State family."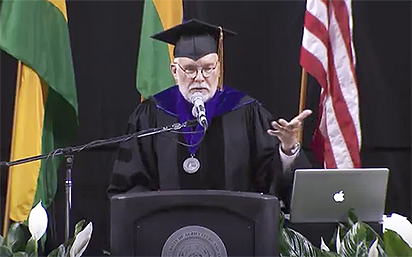 During the Graduate School commencement ceremony, K-State also presented an honorary doctorate to photographer Jim Richardson '17. Growing up on a farm near Belleville, Kansas, Richardson developed a passion for photography at a young age, displaying his prize-winning photos at the county fair. As a student at K-State, his photos appeared in the Kansas State Collegian. Those experiences were the seeds that grew into a career as a photographer for National Geographic magazine and its sister publication, Traveler, giving Richardson an opportunity to travel across the globe and bring stories to life through the images he captured.
As he reflected on his career, Richardson spoke of the importance of continuing to grow and change, encouraging graduates to use their K-State education as a starting point to continue learning, innovating and exploring.
"When I look out and I see you, I see the signs of inner change," he addressed the graduates. "All of you have somehow remade yourselves into something new. Please remember this: that having once remade yourselves, you can do it again and again."
Alumni Association celebrates graduates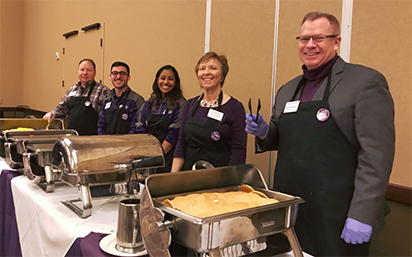 The K-State Alumni Association invited fall graduates to celebrate commencement at a special Grad Breakfast on Dec. 7. Graduates enjoyed a free breakfast served by members of the K-State administration, networked with other graduates and received a free T-shirt. They also had the opportunity to share messages of thanks through K-State's #GradGratitude photo booth.
The K-State Alumni Association partners with the colleges to provide all new graduates with a complimentary one-year membership to the Alumni Association. The Alumni Association also presents undergraduates with a business card holder and graduate students with a lapel pin.
Do you know any K-Staters who will be graduating in May? Be sure to tell them to watch for more information on our spring commencement activities, such as Grad Expo, Grad Bash, Multicultural Graduation Celebration and International Graduation Celebration.