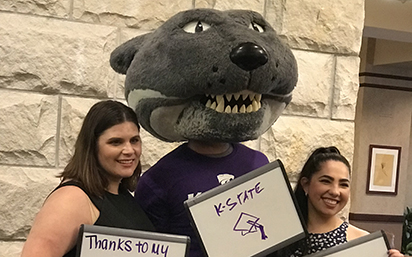 'A new family': K-State graduates begin their journey as alumni
When Dana Weaver came to Kansas State University for orientation, the Metter, Georgia, native was feeling a little overwhelmed and homesick about being in a new place. However, she remembers how a professor she didn't even know came up to her to comfort her, letting her know that K-State was here to help her and that "We're your new family."

The encounter is one that Weaver still treasures as she graduates and becomes a K-State alumnus.

"I'm super sad to leave," she said. "These are relationships you will never forget."

K-State's spring 2018 graduates are part of the 151st class to graduate from the university, with nearly 3,400 students as candidates for graduation. This includes more than 2,700 bachelor's, nearly 660 master's, about 90 doctorates, 106 Doctor of Veterinary Medicine and three associate degrees. More than 330 students are earning degrees through K-State Global Campus distance programs.

Weaver is graduating alongside her friend and fellow kinesiology major Michelle Reznikova, Overland Park, Kansas (both pictured above). Although they didn't know each other before coming to K-State, they later planned their schedules so they could take the same classes.

"I loved it here," Reznikova said of her time at K-State. "The first second I stepped on campus, I knew I would love it, I just didn't know how much."

Both Weaver and Reznikova said they plan to stay in touch with their alma mater after graduating, no matter where life may take them.

"I am so excited," Reznikova said. "I love Manhattan, and I'm not ready to leave. But I'm excited to start my next adventure."

During commencement, K-State also presented a special degree to G.P. "Bud" Peterson '75, '77, '80 at the Graduate School ceremony. The president of Georgia Tech received an honorary doctorate — the highest honor the university gives. He had some parting words of reflection for the class of 2018.

"Commencement is a celebration of personal accomplishments and the power of teamwork, as well as a visible symbol of your university fulfilling its role of equipping the next generation with what it and society most needs," he said. "It's one of my favorite events on campus and represents both an end and a beginning. I also hope that during your time at Kansas State, you've collected memories and friendships that will last a lifetime."

The K-State Alumni Association is proud to help new alumni stay connected to K-State after graduation. The Alumni Association partners with the colleges to provide all new graduates with a complimentary one-year membership to the Alumni Association. The Alumni Association also presents undergraduates with a business card holder and graduate students with a lapel pin. Learn more about Alumni Association membership, and view photos from some of the K-State Alumni Association's commencement events below.