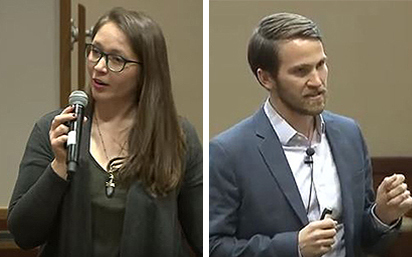 A voice for change: Distinguished Young Alumni Award recipients share their college and career experiences
Megan McCall '08, '11 is an advocate for women and children in crisis and serves as a voice for those facing the threat of domestic violence. Bryce Huschka '07 is empowering students to view their educational experience in a new way and teaching them how to leverage their unique skill sets in the corporate world.
Though McCall and Huschka have chosen different career paths, both are using their education from Kansas State University to make a positive difference in the world around them. In recognition of their efforts, the K-State Alumni Association and the Student Alumni Board presented them with the 2018 Distinguished Young Alumni Award.
The award, established in 2012, recognizes two Kansas State University graduates who are younger than 35 and are using the scholarship, leadership and service experience they acquired at K-State to excel in their professions and contribute to their communities. Huschka and McCall returned to campus Feb. 26-28 to visit with student groups and university classes, and they also delivered keynote presentations Feb. 27 in Town Hall in the Leadership Studies Building.
"Bryce and Megan have accomplished so much very early in their careers," said Marcus Kidd '14, '16, assistant director of student programs for the Alumni Association and Student Alumni Board adviser. "They are great examples of K-Staters who learned how to be leaders through their college experiences. Those experiences molded who they are today and contribute to their successes both personally and professionally."
At their keynote presentations, McCall and Huschka looked back on their time at K-State, shared what they have accomplished in their careers and looked ahead to the future.
A voice for victims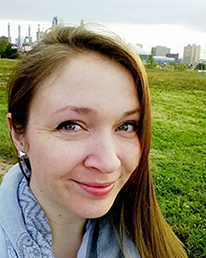 Megan McCall, bachelor's and master's degrees in sociology, has dedicated her career to ending violence against women and children, and she credits K-State for starting her on this path.
During her time at K-State, she learned about the effects of domestic violence and how it impacts one in three women. Her professors inspired her to follow her passion for raising awareness about domestic violence, and she began volunteering at a shelter in Manhattan, Kansas. She has now been doing this work for over a decade.
"K-State offered me this wide-open opportunity to experience so many different things," she said. "It has really changed my life."
She is currently a remote on-call Bridge coordinator with Rose Brooks Center in Kansas City, Missouri. She works with a hospital advocacy program providing a 24-hour response to victims of domestic violence who are screened in a hospital setting and identified as being at risk. She now lives in Tucson, Arizona, and wants to start her own nonprofit there, similar to Rose Brooks Center.
"Getting that call for this [Distinguished Young Alumni] Award really inspired me; it encouraged me that I can do this," she said. "I am so incredibly honored to get this award."
Watch McCall's full keynote presentation:
A fresh perspective on education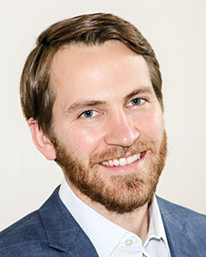 From his start at K-State, Bryce Huschka now lives in Los Angeles and is an area manager for ExxonMobil. He came to K-State to earn bachelor's and master's degrees in industrial engineering, which he sometimes calls "imaginary engineering" — though the term doesn't mean what some people might first assume. Industrial engineering is about dreaming big and applying engineering in ways people can only imagine.
He also encouraged students to dream big and think outside the box when it comes to the concept of education. He is involved with the Skill Xcelerator program at K-State, which seeks to reimagine the college experience as a business startup experience. This philosophy pushes students to view college as a chance to build lifelong skills, participate in research, and build their resume with concrete experiences. Networking with successful alumni is another key aspect.
"This program can change life after college," he said during his keynote address.
He encouraged students in the audience to broaden the lens through which they view their world and challenged them to embrace their differences and bring a fresh perspective to the table. Don't be afraid to explore and seek change.
"You are successful by being different," he said.
Watch Huschka's full keynote presentation: