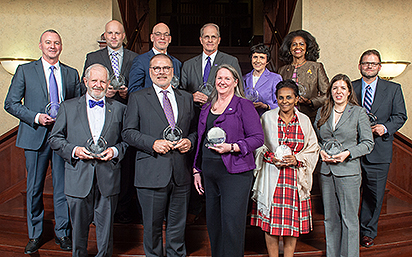 2019 Alumni Fellows connect with students on campus
Audrey Mross '80, 2019 Alumni Fellow for the College of Business Administration, walked around the Business Building practically beaming with happiness, because she was in "Manhappiness" as she likes to call it on social media.

Mross and 11 other distinguished professionals were on K-State's campuses from April 10-12 to share their industry knowledge and expertise with students and faculty members.

On April 11, while speaking to K-State students during several classes, Mross stressed the importance of networking and maintaining a connection to K-State after graduation.

"It will give you purpose, help you network and build your career," she said.

Mross would know a thing or two about networking. After all, she is a former member of the K-State Alumni Association's board of directors and served as its chair. She's also president of the Kansas State Texans, the K-State Alumni Club for the Dallas-Fort Worth area.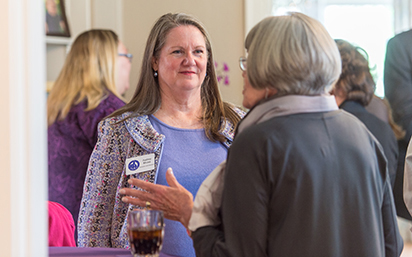 "Wear your K-State shirts when you do your errands. K-State has remained a big part of my life, and the relationships I've made have followed me throughout my career."

But Mross wasn't there to promote purple pride solely; she was honored by K-State for her work as an attorney.

Mross, Dallas, Texas, is a partner and chair of the labor and employment section with the law firm of Munck Wilson Mandala. Prior to the practice of law, Mross was a human resources professional in hospitality, oil and gas, and information technology.

While on campus she spent time with students to help them navigate career choices, talk shop about life as an attorney and celebrate her alma mater.


Below, you can follow the links to learn more about each of the 2019 Fellows, and also read about how K-State prepared them for their career.