Alumni Association honors eight K-State students for excellence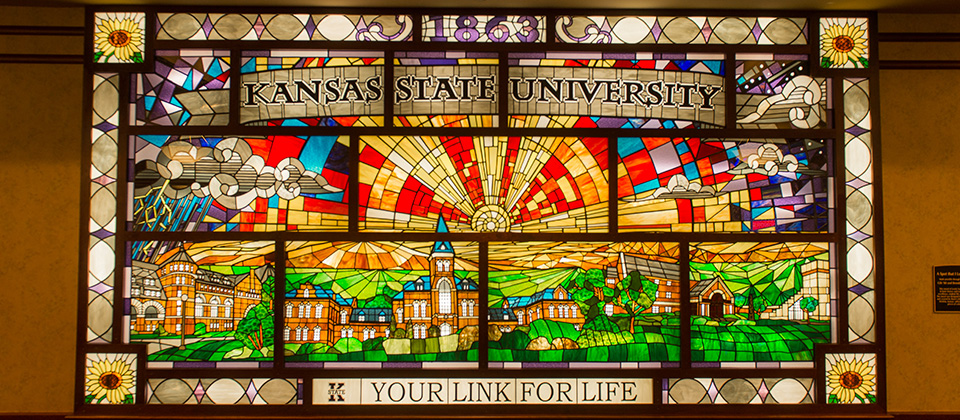 Eight graduating Kansas State University students will be recognized by the K-State Alumni Association for outstanding achievements throughout their college careers during an awards luncheon on April 24 at the K-State Alumni Center.
The honors include four upcoming graduates who earned the Anderson Senior Award, which recognizes graduating seniors for academics, leadership, inspiration and service. The award was established in 1998 and pays tribute to K-State's second president, John Anderson, who served from 1873 to 1879.
The Alumni Association will recognize two graduate students with its Graduate Student Award, which was established in 2010. The award recognizes outstanding graduate students for academics, service and leadership.
Two students also will be presented with the Tony Jurich Community Commitment and Leadership Award at the ceremony. The award was established in honor of the late K-State professor Tony Jurich, who taught in the College of Human Ecology for more than 39 years. It recognizes both graduate and undergraduate students who have demonstrated a commitment to community leadership and service through Jurich's core leadership tenets.
Faculty and peers nominate students for the awards, and committees consisting of members of the Alumni Association board of directors and K-State students select the recipients.
"These students are role models for leadership, community service and academics and exemplify the caliber of students at K-State," said Marcus Kidd, assistant director of student programs for the Alumni Association. "It is an honor to recognize their achievements."
Recipients of awards from the Alumni Association are:
Kathryn Schieferecke, bachelor's candidate in economics with minors in Spanish and financial counseling, Bennington, Kansas, Anderson Senior Award for Outstanding Service. Schiefercke served as president of the Wildcats for International Development club, co-student coordinator for the Staley School of Leadership Studies' Alternative Breaks program, as a peer financial advisor for Powercat Financial Planning, and is a member of St. Isidore's Catholic Student Center.
Max Stieben, bachelor's candidate in sociology, Hays, Kansas, Anderson Senior Award for Outstanding Leadership. Stieben has held many roles within K-State's Air Force ROTC detachment including vice commander of the Honor/Color Guard, flight commander, field training preparation trainer, vice wing commander and wing operations group commander. He is a member of the Arnold Air Society, Wildcat Warriors, Criminology Club and Christian Challenge. Additionally, he has represented K-State as an intern at Air Force Headquarters in the Pentagon working in the Air Force War Planning office.
Miranda Moore, bachelor's candidate in communications studies, political science and pre-law with a minor in leadership studies, Pittsburg, Kansas, Anderson Senior Award for Outstanding Academics. Moore is a member of Phi Kappa Phi Honor Society, a highly selective national honor society, and a member of Blue Key honor society. Her undergraduate cumulative GPA is 4.0. She was one of four Americans selected for a three-week institute on Children's Literature and Leadership through the Fulbright Summer Institute in London during the summer of 2016. Additionally, Moore is a member of the K-State Honor Council where she acts as the Arts and Sciences Representative.
Adrianna Gordey, bachelor's candidate in English with a minor in leadership studies, Overland Park, Kansas, Anderson Senior Award for Outstanding Inspiration. Gordey served as a LEAD 212 class leader, TRIO McNair scholar, resident assistant for Boyd Hall for two years, Young Writer's Workshop Program assistant and as 2018 International Leadership Association Case Competition Team member.
Amanda Martens, doctoral candidate in psychology, Shelby, Iowa, Graduate Award for Outsanding Academics. Martens served as president-elect and president of the Graduate Student Association in 2014-2015 and 2015-2016, respectively. Compared to others psychology doctoral students, Martens has an unusually high number of publications to her name. They include: first author on two journal articles, co-author of seven articles, co-author on three book chapters and several other manuscripts in review or preparation. In addition to publishing her research activity, Martens has been actively engaged in professional associations in her field, presenting over 20 research posters at professional conferences.
Derek Lawson, doctoral candidate in personal financial planning, Lubbock, Texas, Graduate Award for Outstanding Leadership and Service. Lawson has served in leadership roles on the Graduate Student Council. He began by serving on the Research Forums Committee, which coordinates two annual research forum events for graduate students to share their research and scholarly work with the K-State community. During that same year, Lawson also served as the co-chair of the GSC Professional Development Committee, which coordinates approximately five seminars/workshops each semester to support graduate students' professional career development. In the following year, Derek was elected as president-elect of the GSC, followed by a one-year term as GSC president.
Rafael Garcia, bachelor's candidate in journalism and mass communications with minors in Spanish translation and economics, Emporia, Kansas, Tony Jurich Community Commitment and Leadership Undergraduate Award. Garcia has worked as a student journalist for the Kansas State Collegian and served as its editor-in-chief. Additionally, he is an Edgerley-Franklin Urban Leader.
Heather Love, doctoral candidate in human ecology, Gilbert, Arizona, Tony Jurich Community Commitment and Leadership Graduate Award. Love was Graduate Student Council secretary for the 2017-18 school year; Women of K-State graduate student representative from 2016- 18; Critical Conversations Committee student member from 2016-2019; and president of the Student Associates Organization of the Couple and Family Therapy program from 2018-19.
---