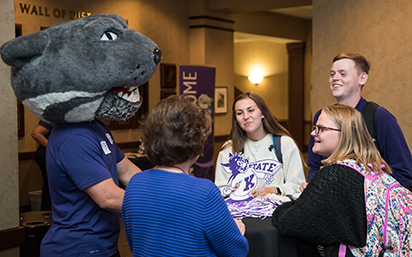 Expanding access, honoring tradition: K-State launches new fall 2020 scholarship program
As future Wildcats explore everything that awaits them at K-State, they'll be excited to discover a variety of new scholarship opportunities. Effective for the fall 2020 entering class, an expanded set of general university scholarships and awards has been created for incoming freshmen and transfer students, both domestic and international.

"We are thrilled to open up our scholarship offerings in new, exciting ways by both creating new awards and retaining several existing opportunities," said Robert Gamez, director of the Office of Student Financial Assistance. "The new program also offers clarity to students determining their scholarship eligibility, as well as a reduced cumulative K-State GPA for scholarship renewal, which is in service to both our students and our mission of educational access."

Students and families can explore the scholarships/awards available to them online. A few highlights from the university's out-of-state domestic offerings include:

✏️ The Midwest Student Exchange Program (MSEP), previously only available to a limited number of academic majors, has been expanded to all academic majors. Eligible incoming domestic freshmen and transfer students from Illinois, Indiana, Michigan, Minnesota, Missouri, Nebraska, North Dakota, Ohio or Wisconsin will enjoy a reduced tuition benefit where they will pay no more than 150% of in-state tuition rates.

✏️ The university also created an identical program in the Founders Non-Resident Merit Award, which offers the same reduced tuition benefit to eligible students from Arkansas, California, Colorado, Oklahoma or Texas.

✏️ These opportunities join the Heritage Scholarship for non-Kansas residents, a scholarship available exclusively to domestic out-of-state students with at least one parent or grandparent (biological or adopted) who graduated from K-State. The Heritage Scholarship honors the family tradition of a K-State education with a $12,000 renewable award.

To apply for all general university scholarships/awards, students must first apply for admission to the university. A review of the student's eligibility for general university scholarships/awards is populated from the application for admission itself.

In addition to general university scholarships/awards, the university has also created the K-State Scholarship Network (KSN), an online portal that connects students to even more scholarship opportunities, including the Alumni Association Legacy Scholarship. Both newly admitted incoming students and continuing students should apply for scholarships/awards within the KSN portal. Continuing students should plan to update their information in KSN each year as they get involved in more activities or have new accomplishments to share. More information is available online.

Gamez added, "Between general university scholarships/awards and the additional scholarships available through the K-State Scholarship Network, our students have a variety of new opportunities available to them, a true testament to the university's commitment to student success."

Visit k-state.edu/scholarships-awards to learn more about general university opportunities, and visit k-state.com/getinvolved/futurek-staters/scholarships to learn more about scholarship opportunities available exclusively through the K-State Alumni Association.