Jordy Nelson to serve as Grand Marshal for 2019 Homecoming Parade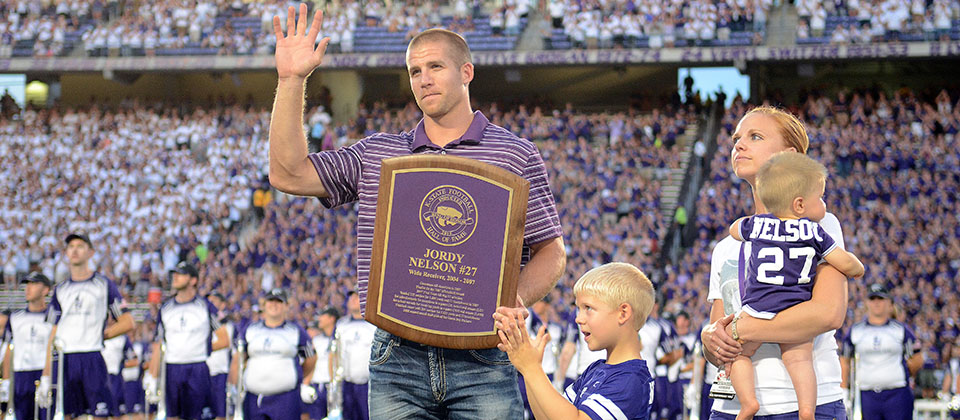 Kansas State University and the K-State Alumni Association is welcoming home K-State football legend Jordy Nelson '07 by naming him Grand Marshal of the 2019 Homecoming Parade. Nelson recently retired after 11 seasons in the NFL.
The Parade will take place on Oct. 25, beginning at Manhattan Town Center and will proceed through Aggieville before ending in City Park for the Homecoming pep rally.
"Being named the Grand Marshal of this year's Homecoming Parade is really exciting. I'm looking forward to seeing K-State fans this fall," Nelson said. "My family and I are excited to be back in the Manhattan area to participate in K-State activities again."
Nelson was a walk-on defensive back at K-State who changed positions to wide receiver. As a senior in 2007, he was among the best receivers in the nation thanks to a standout season. That year he set school records for receptions in a game (15) and season (122), receiving yards in a game (214) and season (1,606) and yards per game in a season (133.8). He finished his K-State career with 206 catches for 2,822 yards and 20 scores. He was also named a 2007 Consensus All-American and finalist for the Biletnikoff Award.
In the 2008 NFL Draft, he was taken 36th overall by Green Bay and played for the Packers from 2008-2017. He helped guide the Packers to win Super Bowl XLV in 2011. He also spent a year with the Oakland Raiders before retiring from the NFL. In 2015 Nelson was inducted into K-State football's Ring of Honor.
"Jordy Nelson personifies the core values we hold dear at K-State. He is a great example of how the road to success is realized through commitment, dedication and a strong work ethic," said Amy Button Renz '76, '86, president and CEO of the K-State Alumni Association. "The K-State family is so proud to have Jordy as a graduate and we are pleased to welcome him, Emily and their family back to Kansas!"
Homecoming has been a tradition at K-State for more than 100 years. This year's theme, "Manhappiest Place on Earth," salutes K-State's hometown, Manhattan. The week-long celebration will take place from Oct. 20-26 and is sponsored by the K-State Alumni Association. To stay up-to-date on all 2019 Homecoming activities, visit k-state.com/homecoming.
---