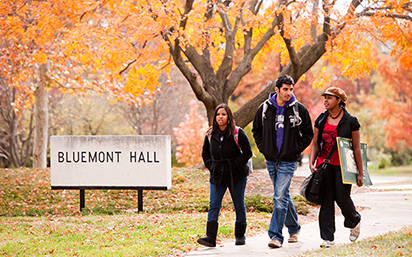 The good life: K-State receives high rankings in love for the college, happy students, quality of life
Kansas State University students know a spot that they love full well, according to the latest educational review publications.
The Princeton Review ranked Kansas State University in 13 different categories in the 2017 edition of The Best 381 Colleges. Among the rankings are No. 2 for students love these colleges, No. 3 for best quality of life, No. 4 for best athletic facilities, No. 5 for great town-gown relations, No. 6 for happiest students, No. 7 for students pack the stadiums, No. 15 for best run colleges and No. 18 for best college dorms.
"K-State has been recognized among the top 10 in several national rankings for many years," said Pat Bosco '71, '73, vice president for student life and dean of students. "Repeated high rankings in areas like best loved colleges, best quality of life and happiest students demonstrate how K-State's dedicated faculty, academic advisers and student life professionals have been putting students first for generations."
The Princeton Review, an education services company, surveyed more than 143,000 college students to rank schools in 62 categories. The book identifies the top 20 schools in each category.
Kansas State University also is mentioned in "America's Top Colleges" by Forbes, which names 660 of the nation's best educational institutions based on postgraduation success, student debt, student satisfaction, graduation rate and academic success.