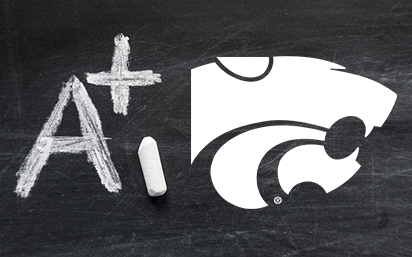 K-State celebrates top rankings
If we could give Kansas State University a report card, we'd give it an A+!

And it's not just us — in the past year, K-State has received a number of top rankings from various organizations. Here are some of the stats that make us proud to be Wildcats!

📝 Best educational value in state
K-State graduates continue to earn the highest average starting salary among new college graduates in Kansas, helping the university top a national study of the best educational values in the state for the fifth year in a row.

The study by SmartAsset, a financial technology company, determined the best educational values based on tuition, living costs, average scholarships and grants, starting salary upon graduation and retention rates at 10 schools in Kansas, with K-State coming in first.

The study found that new K-State graduates are earning the highest average starting salary: $51,600, which is up $1,600 from last year's state-leading starting salary of $50,000. The university also is best in student retention at 84%.

"Studies show that college graduates earn, on average, $1 million more than high school graduates over their lifetimes," said Emily Lehning '98, '00, '08, interim vice provost for enrollment management. "When you invest in a K-State education, we invest in you. We award more than $248 million in financial aid annually, including $38 million in scholarships and awards, and we offer more than 250 majors and options — taught by award-winning faculty — so you can find the career you want."

📝 No. 2 on list of best public universities
Learn.org, a highly visited website that has been helping millions of students find degree options, scholarships and more, rates K-State as No. 2 in the nation on its 2019 list of best public schools. K-State is the highest-rated school in the Big 12 Conference and the state of Kansas on the list.

To compile its list, Learn.org considered hundreds of public universities across the country and selected K-State based on academic and career resources, the quality of education, faculty and more.

In its write-up for K-State's high placement, Learn.org cited the number of degree options offered by the university, calling it an "impressive array of programs." The university offers more than 250 undergraduate options and more than 150 graduate degrees and certificates.

Learn.org also highlighted the university's reputation for graduating students ready to hit the workforce, as evidenced by the high percentage — now at 96% — of K-State students who are employed or continuing their education six months after graduating.

📝 Top marks from The Princeton Review
According to The Princeton Review, K-State is a great place to be.

The Princeton Review, a college admission services company, recently released The Best 385 Colleges: 2020 Edition, which includes several high rankings for K-State:

#2 Town-Gown Relations are Great
#2 Best Health Services
#2 Best Quality of Life
#3 Happiest Students
#7 Best-Run Colleges
#7 Best Athletic Facilities

"Kansas State is a large institution, but despite its size, the university manages to feel 'very personable and really [focused] on the student,' offering a 'welcoming environment and atmosphere,'" the website states.