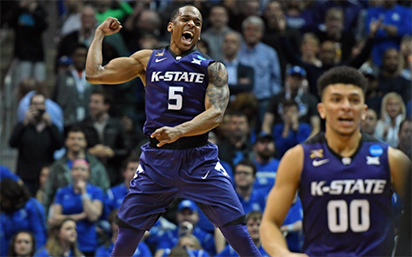 March magic: Wildcats light up the court in postseason basketball
Magic was in the air — and on the court — as the Wildcats advanced through March Madness postseason basketball.
In the NCAA Tournament first round, the K-State men's team topped Creighton with a score of 69-59 on March 16, before pulling off a 50-43 win against Cinderella team UMBC in the second round on March 18, advancing to the Sweet 16. Then, a thrilling 61-58 win against Kentucky on March 22 sent the 'Cats to the Elite Eight. That win was even more special thanks to guest Ernie Barrett '51, '56, who was a member of the 1951 K-State basketball team that also made it to the Sweet 16 and ended the season as the NCAA Tournament runner-up to Kentucky.
"It's surreal," sophomore forward Xavier Sneed said of the March Madness experience. "I'm still taking it in. As a kid, I dreamed about being in these moments and this is just big time. I'm still taking it in now."
Although the team's postseason journey ended sooner than they hoped, with a 78-62 loss to Loyola Chicago in the Elite Eight on March 24, the 'Cats still had plenty of reasons to celebrate.
"I'm just so proud of our guys, how hard they've worked, how we've overcome so much throughout the year and did some special things," head coach Bruce Weber said. "It's hard to get to this spot, and right now we've got a lot of sad faces, a lot of tears, but I told them I appreciate them so much."
The K-State women's team also was on a postseason winning streak. After defeating Saint Louis in the opening round of the WNIT, 75-61, in Bramlage Coliseum on March 15, they beat Utah 74-57 in the second round on March 18.
Sadly, their journey also came to an end, with a narrow loss to UC Davis on March 23 in the round of 16, with a final score of 71-69. Yet they too are proud of what they have accomplished.
"It feels awesome," junior guard Kayla Goth said of making it to postseason play. "We are a pretty young team so to be able to make it to the postseason and make a run in the postseason is really big for us. We are playing pretty well right now as a team."
View postseason highlights in the photo gallery below: