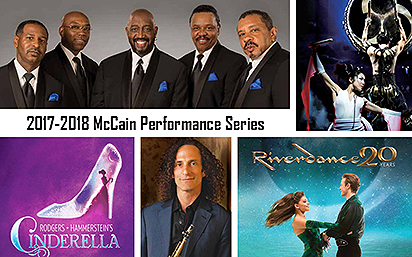 Laugh, clap, be amazed: 2017-2018 McCain Performance Series features big names from world of entertainment
The biggest shows from Broadway, music greats, comedy icons and some well-known classics are joining the star-studded lineup for the 2017-2018 McCain Performance Series at Kansas State University.
Single tickets are available now (for Alumni Association member discounts, please see end of article). This season's collection of more than 30 exciting shows includes recent Broadway hits such as "Kinky Boots" and "Jersey Boys," along with well-loved classics like "The Sound of Music" and Rodgers and Hammerstein's "Cinderella." Music legends the Temptations and jazz great Kenny G will take the stage, and literary classics will be brought to life with Shakespeare's "Hamlet" and Jane Austen's "Sense and Sensibility."
In the mood to laugh? Comedy will be provided by Paula Poundstone, David Sedaris and John Cleese, who will be live with a screening of "Monty Python and the Holy Grail." Bringing holiday cheer will be "A Charlie Brown Christmas," Mannheim Steamroller Christmas by Chip Davis and more. Celebrate the 20th anniversary of "Riverdance" and experience the heart-pounding excitement of percussion group TAO with their production "Drum Heart."
Tickets can be purchased at the McCain Auditorium box office or by calling 785-532-6428. A downloadable brochure is available online highlighting the complete lineup of shows. Tickets are half-price for youth 18 and under for most shows. Half-price tickets for all shows is a benefit received by all K-State students. Discounts for the military and K-State faculty and staff members also are available.
The mission of the McCain Performance Series is to serve the university and surrounding communities by presenting professional live performing arts programs and engagement activities that connect artists and audiences. The vision of the McCain Performance Series is to ensure that live performing arts experiences enhance and become integral to the lives of everyone McCain serves.
Discounts for Alumni Association members
The McCain Performance Series offers select shows each semester available at a special K-State Alumni Association member discount. The discounts will be available online starting Aug. 3 for the following shows: Parsons Dance, Sept. 14; Creedence Clearwater Revisited, Sept. 24; The B-52s, Sept. 29; The Bumper Jacksons, Oct. 28; One-Man Star Wars Trilogy, Nov. 10; Swan Lake Ballet, Jan. 26, 2018; Berlin Philharmonic Piano Quartet, Feb. 22, 2018; and Kenny G, April 29, 2018. (Note: McCain Performance Series discounts are for K-State Alumni Association members only. Discount is 15 percent off regular-priced tickets in any section; cannot be combined with any other discount(s). Valid beginning Aug. 3, and is only available online with the applicable coupon code. Fees and taxes are charged on top of all ticket face value pricing.)
Learn how you can become a member of the K-State Alumni Association to receive McCain discounts and other benefits, such as the K-Stater magazine, annual wall calendar, K-State Campus Store discount and more.