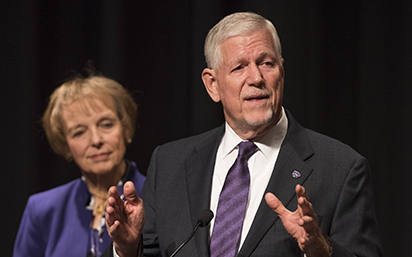 Richard B. Myers to serve as 14th president of Kansas State University
The Kansas Board of Regents has announced the appointment of Richard B. Myers '65 as the 14th president of Kansas State University. Myers has served as the interim president of K-State since April 2016.
"It is with great pleasure that we…make this announcement," said Zoe Newton, chair of the Kansas Board of Regents. "General Myers is perfectly positioned to bring K-State into the future, but understands as an alumnus the importance of honoring the traditions and history of this great university."
Myers said he and his wife, Mary Jo Rupp Myers '64, are excited for this opportunity to serve K-State and support education and research, honoring K-State's land-grant heritage.
"The kindness that's been extended to Mary Jo and me has been just actually overwhelming from the time we've been here as the interim," Myers said during his appointment Nov. 15. "The opportunity to come back to a state I love and has helped shape me was important, and the same goes for the university. I'm passionate about our mission here at Kansas State University."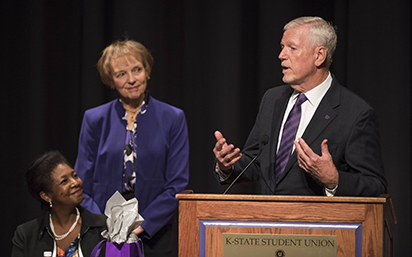 Born and raised in Merriam, Kansas, Myers joined the Air Force in 1965 through the ROTC program at K-State and became a four star general. His distinguished military career includes serving as the 15th chairman of the Joint Chiefs of Staff from 2001 to 2005. As the nation's highest ranking military officer, Myers served as the principal military adviser to the president, the secretary of defense and the National Security Council.
Regent Dennis Mullin, chair of the K-State Presidential Search Committee, said Myers' leadership experience and love for K-State will serve the university well.
"The decision was a hard choice because of the quality of candidates that applied," Mullin said. "General Myers surfaced to the top because of his strong leadership and vision. When the board looked at the needs of K-State today, they believed that his skill set was aligned closely to those goals. His effectiveness as interim president and his love for K-State were also great attributes."
Amy Button Renz '76, '86, president and CEO of the K-State Alumni Association, is excited to work with President Myers going forward.
"We are very proud to have such a distinguished graduate of Kansas State University selected to serve as our 14th president," she said. "President Myers is an incredible individual who readily shares how his education at K-State helped shape who he is today. His warm, sincere personality resonates with members of our Wildcat community, and people really appreciate how he willingly embraces our Midwest values. We are also fortunate to have his wonderful partner, Mary Jo, a past member of the alumni board, serving as first lady of our university."
K-State Alumni Association board members Sylvia White Robinson '71 and Travis Lenkner '01 also expressed their excitement about President Myers' appointment.
"His commitment to the students, employees, faculty, administration and alumni is beyond reproach," Robinson said. "I am confident that his leadership, as president of K-State, will continue to advance the university toward academic excellence and being the No. 1 choice of students and families in the state of Kansas."
"A proven leader and passionate K-Stater, General Myers is uniquely positioned to help the university meet its strategic goals while addressing significant challenges," Lenkner said. "The General and Mary Jo will help take Kansas State to new heights. Our alma mater is in great hands!"
Watch President Myers' full comments on his appointment as the next president of Kansas State University.