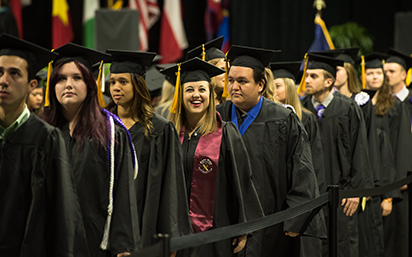 K-State celebrates spring 2017 graduates, presents honorary doctorate
Nearly 3,000 Kansas State University students earned degrees in May, closing one chapter in their lives and opening another. Although they end their time on campus as students, they are welcomed into the K-State alumni family.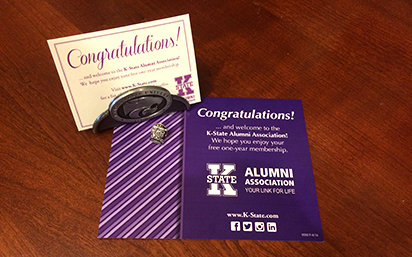 The 2017 graduates are part of the 150th class to graduate from K-State since the first class graduated in 1867. The K-State Alumni Association partners with the colleges to provide all new graduates with a complimentary one-year membership to the Alumni Association. The Alumni Association also presents undergraduates with a business card holder and graduate students with a lapel pin.
During K-State's spring commencement ceremonies, nearly 2,300 bachelor's, 570 master's, about 80 doctorates, 109 Doctor of Veterinary Medicine and four associate degrees were awarded. More than 330 students earned their degrees through K-State Global Campus online degree programs.
At the Graduate School commencement, 2017 honorary doctorate recipient and National Medal of Science winner Geraldine "Geri" Richmond '75, '17 offered several words of wisdom to the students. She encouraged them to take advantage of their K-State education and embrace new opportunities as they begin their careers.
"The degree opens doors for you that you cannot imagine at this point, and opportunities yet to become," she said. "But often, you must play a role in opening those doors too, and creating those opportunities."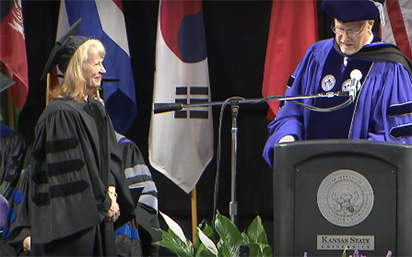 Richmond's story is an example of the hardworking, innovative spirit of K-State grads. She worked to help pay her way through college and got an early start in research as an undergrad. She is now presidential chair in science and professor of chemistry at the University of Oregon.
"I'm back home," she said during her commencement address. "Let me say how deeply honored I am to get this honorary degree. It was here at Kansas State University that I developed my love for science that has withstood the test of time and many challenges over all these years."
K-State Alumni Association honors graduates
The K-State Alumni Association celebrated graduation with a variety of events, including Grad Bash, International Graduation Celebration and Multicultural Graduation Celebration (learn more and view photos from the International and Multicultural events).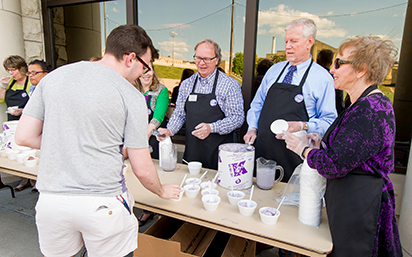 At Grad Bash, students enjoyed free hamburgers and ice cream while listening to live music from the Mikey Needleman Band and snapping photos with Willie the Wildcat.
Carina Metzgar, Mound City, Missouri, and Katie Proctor, Manhattan, Kansas, attended Grad Bash. They both came to K-State to study athletic training and said their time at K-State has helped prepare them for their careers ahead. Metzgar plans to earn a master's in sports psychology while Proctor wants to pursue physical therapy.
"I always wanted to go to K-State," said Metzgar, whose mother and sister also attended K-State. "The family aspect has played a key role."
Proctor agreed. "It's prepared me really well to work with people in a professional environment," she said. "The atmosphere here has been awesome."