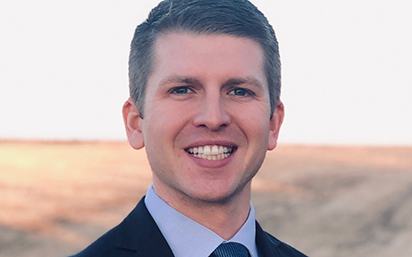 Meet our 2019 Distinguished Young Alumni (Part 2)
Dr. Charley Cull '12, '14, '16 isn't afraid of a challenge.

During his time at Kansas State University, he became the first student to complete concurrent D.V.M. and Ph.D. degrees through the dual-degree scholarship program in the College of Veterinary Medicine. His doctoral research was focused on epidemiology and food safety.

"The dual degree program is rigorous and demanding, requiring candidates to be not only exceptional students in the classroom and laboratory but skilled in time management," said Dr. Bonnie Rush, interim dean and professor in the College of Veterinary Medicine.

Cull is now a veterinarian and clinical research associate and director of stocker and grazing cattle operations for Midwest Veterinary Services and Central States Research Centre of Oakland, Nebraska, and the satellite facility, Veterinary Biomedical Research Center of Manhattan, Kansas. His research provides key data to support FDA and USDA approval of animal health products to enhance the health of food animals and ensure a safe food supply.

In recognition of his work, Cull is being honored with the K-State Alumni Association Student Alumni Board's 2019 Distinguished Young Alumni Award. (Fellow 2019 DYA Award recipient Kale Monk '10, '13 was featured in the February issue of @K-State.)

The DYA Award recognizes two K-State graduates who are younger than 35 and are using the scholarship, leadership and service experience they acquired at K-State to excel in their professions and contribute to their communities. The Alumni Association and Student Alumni Board honored Monk and Cull when they returned to campus Feb. 25-27 to give keynote presentations and visit with student groups and university classes.

"I was honored and humbled to be recognized as a Distinguished Young Alumni at Kansas State University," Cull said. "It means a lot to be honored by a university that has given me such a solid foundation and has enabled me to accomplish so many things in my life. Receiving the Distinguished Young Alumni Award could not have been possible without an army of people who have helped shape my life. I feel blessed to have had the opportunity to realize a dream and not only attend but graduate from a great university."


Relationships and research
During his time at K-State, Cull said he learned to overcome challenges and focus on the important parts of his life.

"There were times when I struggled to meet the demands of rigorous programs, but through my investment in myself, and through the investment of others, I learned to put my head down, focus and push through," Cull said. "K-State also taught me that people and relationships are at the core of many decisions, and I developed a desire to positively impact those around me with my endeavors."

In addition to helping him pursue his passion for agriculture and research, K-State also gave Cull an opportunity to refine his skills, build a network of mentors, and appreciate the importance of lifelong learning.

"The K-State experience allowed me to connect with individuals and groups who were truly invested in my path and success and provided me opportunities to grow," he said. "I hope to someday provide that same impact to others."

According to Dr. Rush, Cull is already making an impact — he is a member of the Oakland-Craig Science Technology Engineering and Math (STEM) program that organizes science workshops for high school students, and he serves as a scientific mentor for a critical workforce development program called "Pathways to Tomorrow," an internship program to match non-college bound high school students with vocational and technical jobs in rural communities.

"Even though he is an early-career researcher and veterinarian, the combination of his knowledge, training and collaborative skills has made him a leader among peers and colleagues," Rush said.


Values and traditions
Although academics kept him busy at K-State, Cull has memories of fun times, as well.

"I still remember going to my first Open House and stopping by Call Hall after exams for a little ice cream treat," he said. "But my favorite is still catching up with family and friends at K-State sporting events, while cheering on the 'Cats."

He encourages other K-Staters to keep up their connection to their alma mater.

"Always remember that when you joined the K-State community, you became part of a family that takes pride in sharing the values, traditions and memories that bind us all together," he said.