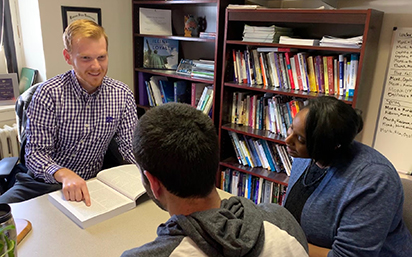 Meet our 2019 Distinguished Young Alumni (Part 1)
Kansas State University taught Kale Monk '10, '13 many things, but the most important was how to be a "servant leader."

As a freshman, he got involved with K-State CRU and traveled to Mississippi for a Hurricane Katrina relief effort. That trip forever changed his view of the world.

"K-State was the first place I learned the importance of service," he said. "That trip really impacted my view of a world that was bigger than myself. It can be tempting to think you are going to change the world with a service trip, but just one week of service is often not enough to put a dent in the real need of a community, and this trip was certainly a greater benefit to me than I was to the people I was serving."

The trip started Kale on a path that eventually inspired him to change his major to psychology and family studies and human services, and also seek a master's degree in couple and family therapy while at K-State. After earning a Ph.D. at the University of Illinois, he is now an assistant professor and state Extension specialist at the University of Missouri. As a professor, his work focuses on maintaining healthy intimate relationships. His research has been featured in prominent national and international media outlets, including The New York Post, USA Today, TIME, The Wall Street Journal and more.

In recognition of his work, Monk is being honored with the K-State Alumni Association Student Alumni Board's 2019 Distinguished Young Alumni Award. (Watch for an article about fellow 2019 DYA Award recipient Dr. Charley Cull '12, '14, '16 in the March 2019 issue of @K-State.)

The DYA Award recognizes two K-State graduates who are younger than 35 and are using the scholarship, leadership and service experience they acquired at K-State to excel in their professions and contribute to their communities. The Alumni Association and Student Alumni Board will honor Monk and Cull when they return to campus Feb. 25-27 to give keynote presentations and visit with student groups and university classes.

"I am humbled to receive this award from my beloved alma mater," Monk said. "Kansas State is such a unique place. K-State graduates are some of the most loyal and proud alumni I have encountered in my time in academia."


Learning to serve
Monk said that before K-State, he did not even know that the field of family science existed.

"I am not sure I would be doing what I am doing today if it was not for Kansas State," he said.

In addition to fostering his passion for service, K-State is also where he learned about the importance of human social relationships.

"Close relationships are considered key determinants of health and can exert a stronger effect on well-being than other well-accepted risk factors like physical activity, smoking, hypertension and environmental pollution," he said. "In fact, those who are lonely or socially isolated have an elevated risk of premature death. Yet many government agencies and health care funders have been slow to recognize the importance of close relationships compared to other public health priorities. K-State provided me with great mentors who taught me a lot about helping relationships and still provide me with key guidance in my research and career."

While he was at K-State, he decided to minor in leadership studies and look for ways to serve within the Staley School of Leadership Studies, starting as a student founder and program coordinator for the K-State Volunteer Center of Manhattan (now HandsOn K-State). He also was involved with the Mortar Board Senior Honor Society. Each organization he was involved in taught him something valuable that he continues to carry with him.

Giving back with purple pride
Although Monk is no longer on campus, he is very proud of the fact he is a K-State graduate, and he continues to share his purple pride wherever he goes.

"Although my peers at other universities are proud of their alma maters, they are often stunned by my K-State pride," he said. "When walking through cities for work with these friends who graduated from other institutions, they constantly hear me yelling 'Go State' to someone in a KSU sweatshirt or witness me starting conversations with pedestrians who have Powercats on their hats. Sometimes it's so excessive that I even embarrass my non-KSU affiliated friends who just don't understand. Once in Chicago, for example, I spotted a K-State license plate and stopped a group of my colleagues so I could leave a note on the parked car telling the owner about the Wildcats in Illinois watch parties."

His advice to current and future alumni is to keep promoting that K-State family spirit.

"It is critical to build your network of professional relationships," he said. "We don't get anywhere alone. Reach out to other members of the K-State family — fellow alumni, faculty and staff. Because of our pride in our alma mater and the sense of service that is instilled in us, I believe you would be hard pressed to find a K-Stater who is not willing to help a fellow alum in some capacity. With that being said, it is also important that we 'pay it forward.' Good relationships are not without reciprocity. As engaged alumni, we need to be willing to help others and our alma mater."