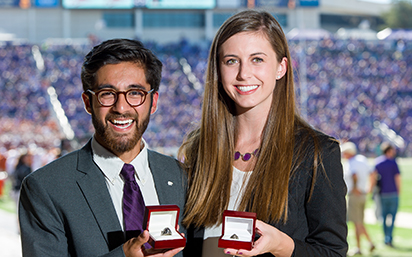 Meet the new K-State Student Ambassadors: Paige Engle and Mario Garcia
In front of an audience of 50,000 fans at the Homecoming football game in Bill Snyder Family Stadium, Paige Engle and Mario Garcia learned they would become the next Kansas State University Student Ambassadors.
Although the election for the 2017 Student Ambassadors is now over, the announcement on the field is just the beginning of Engle and Garcia's journey. As the new Student Ambassadors, they will spend the year attending alumni and campus activities, speaking to alumni, friends, and current and prospective students, and helping to spread purple pride.
"I decided to run for ambassador in order to show as many students as possible why K-State is the greatest college experience in the nation," Engle said.
Garcia is also excited to share his passion for K-State.
"I absolutely love K-State and believe that I'm good at representing people, places and organizations that I believe in, and I whole-heartedly believe in Kansas State University," Garcia said.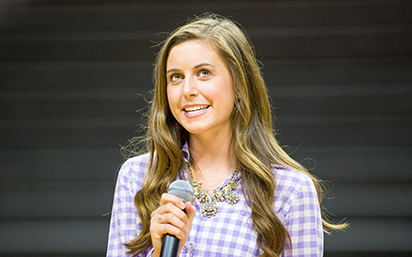 Engle, a sophomore in public relations from Overland Park, Kansas, easily identified with the 2016 Homecoming theme "Growing Up Purple" — she is a fourth-generation K-Stater and remembers traveling to bowl games and wearing a lot of purple.
"Now that I am a student at K-State, this school means even more to me," she said. "K-State has pushed me to be the best version of myself. I know the opportunities I have been given and friendships I have made will follow me for the rest of my life."
As a Student Ambassador, she is looking forward to connecting with current and future K-Staters.
"Making people feel valued is what I do best," she said. "Getting to interact with new people excites me. I am able to make a connection with anyone. I feel this is an essential quality when it comes to being ambassador."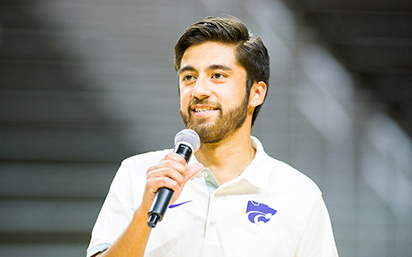 Garcia is a junior in family studies and human services from Shawnee, Kansas, and said he loves K-State because it has given him an environment where he feels free to be himself and explore his passions.
"It also gave me a new community of people who have become part of my own family," he said. "The belief system of inclusiveness and emphasis on community at K-State has developed me in ways I had never imagined."
As a Student Ambassador, one of his goals is making sure all Wildcats are recognized as an important part of the K-State Family.
"Being a part of the K-State Family means that everyone's concern is heard and voices represented," he said. "Also [I want] to continue the growth of diversity at our university and to ensure that there is a place in our community for all people."
The Student Ambassador election was just one part of the 2016 K-State Homecoming celebration, which also included a parade, pep rally, 5K and more. See photos from other Homecoming events on Facebook, and look for extended Homecoming coverage in the winter 2016 K-Stater magazine.
AT&T was a proud sponsor of K-State's 2016 Homecoming.