Spreading purple pride, one K-State Alumni Club at a time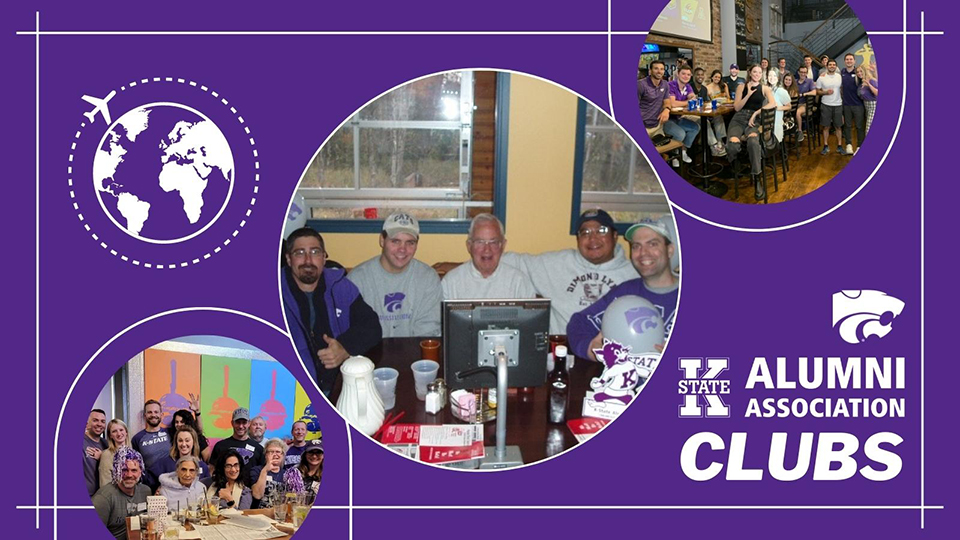 Rain or shine, and even if there's snow, the Alaskan Wildcats K-State Alumni Club members gather for watch parties to cheer on the 'Cats from The Peanut Farm sports bar in Anchorage, Alaska.

However, the crowd might be a little sparser if the weather's nice — some club members might be out hunting moose, chuckles club leader Anson Renshaw '95.

The Alaskan Wildcats is one of many K-State Alumni Clubs located around the country and even around the globe, sponsored by the K-State Alumni Association. Alumni clubs offer a chance for Wildcats to connect with other K-State alumni and friends — no matter how far away they may live from Manhattan, Kansas.

Renshaw has been involved in the Alaskan Wildcats club for more than 20 years and is proud to spread purple pride in Alaska, wearing K-State shirts around town and even bringing his kids with him to watch parties.

Because of the time difference (Anchorage is on Alaska Standard Time while Manhattan is on Central Standard Time), they often end up watching games in the early morning, meeting at The Peanut Farm for breakfast. Recently, they gathered to watch the 'Cats beat LSU in the TaxAct Texas Bowl.

The Peanut Farm is a popular spot to watch college sports in Anchorage, and fans of other teams often meet there as well. The sports bar is located on a salmon stream, and sometimes on game days, Renshaw said you can watch salmon spawning, or even spot a moose or bear in the nearby pasture.

One of Renshaw's favorite game day traditions is bringing his 1960s classic car, a Buick Wildcat that he inherited from his grandmother the year before he graduated. He even has a horn that makes a Wildcat sound.

If the 'Cats win, he says, "I'll do a victory lap, cruise around the neighborhood."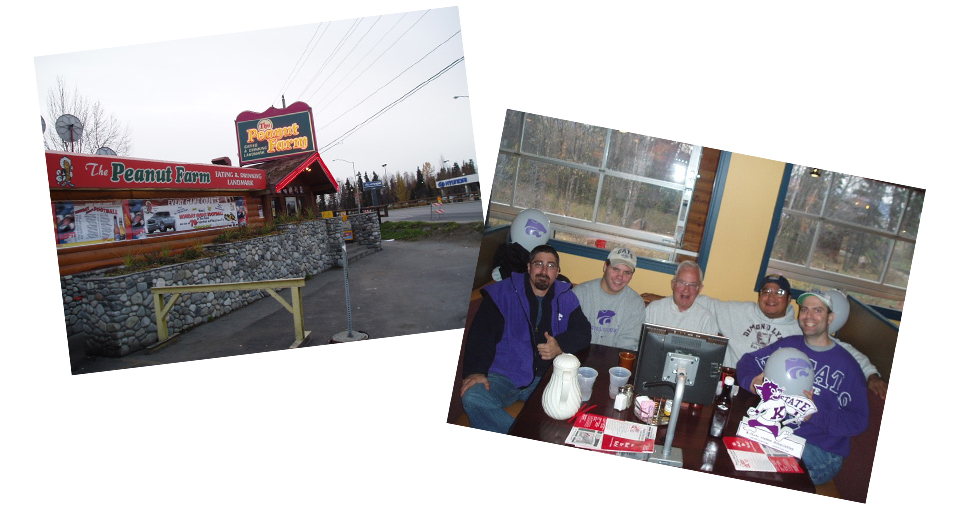 If you travel farther south from Anchorage, you'll find fellow Wildcat Bonnie Ser, a former K-State student and the leader of the Las Vegas K-State Alumni Club.

Ser has been the club leader in Las Vegas since November 2011 and prior to that served as the club leader for the Northern California/Reno, Nevada, group. She's made it her mission to help bring Wildcats together, wherever she lives.

"I began this journey back in 1996 when my son was a student at K-State and I wanted to become more involved as an alum," Ser said. "At that time I was the club leader for Richmond, Virginia. We began with about three people and by the time I left in 2008, we usually had between 25-70 people at our watch parties."

The Las Vegas Alumni Club members spread K-State pride by gathering for game day watch parties, wearing purple whenever they travel, and helping to welcome other Wildcats to Las Vegas, even hosting groups of K-Staters who visit during spring break. They also support local entertainer Travis Cloer '94, who is a K-State graduate.

"We attend his shows, usually wearing purple," Ser said.

Club members pay it forward by finding ways to support the next generation of K-Staters and raising funds for scholarships.

"At our watch parties we always have raffles of K-State gear," Ser said. "The money raised goes towards our scholarship fund at the Alumni Association."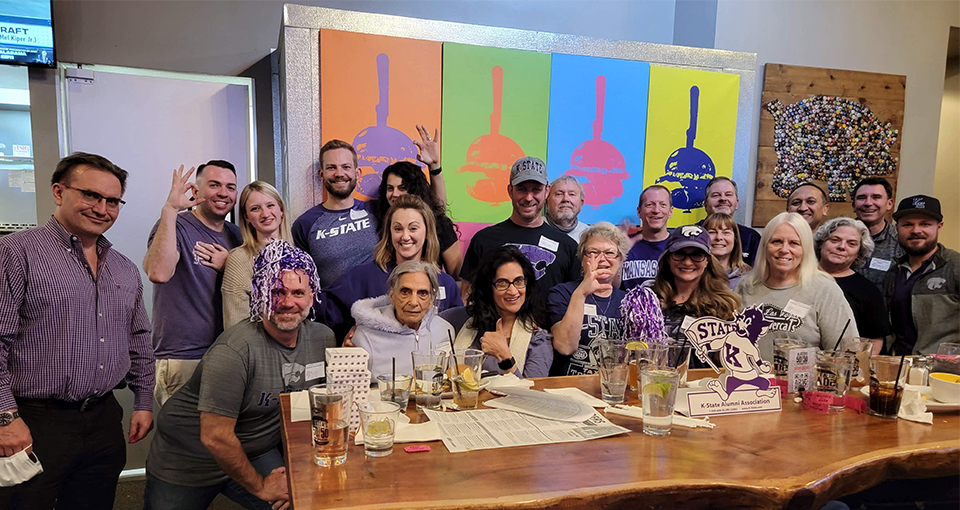 For Kyle Fleming '18, getting involved in the K-Staters of NYC Alumni Club was a good way to make new friends and build a community after moving to a new city.

When he first arrived in New York City in 2018, he didn't have any family or many friends in the city. He started going to K-State watch parties and meeting alumni, and also searched for other New York K-Staters through LinkedIn.

"New York City is quite the networking city," he said. "The K-State alumni connection really helped. I wouldn't be out here without K-State alumni. A lot of my best friends up here went to K-State."

The New York K-Staters gather at a K-State bar in the Chelsea, Manhattan, neighborhood, and Fleming hopes to host more events, such as young alumni happy hours or a black-tie event.

"We'll try to add more events throughout the year," he said.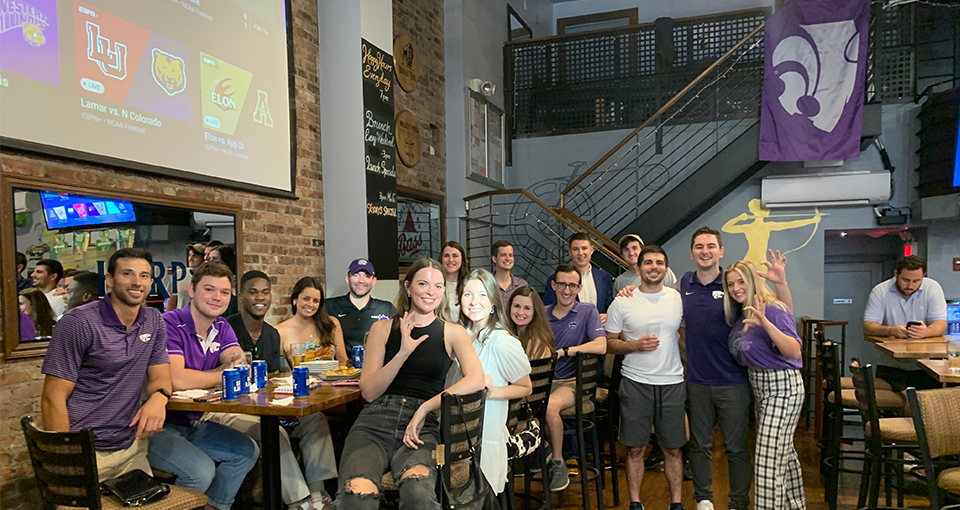 Find a K-State Alumni Club near you
---