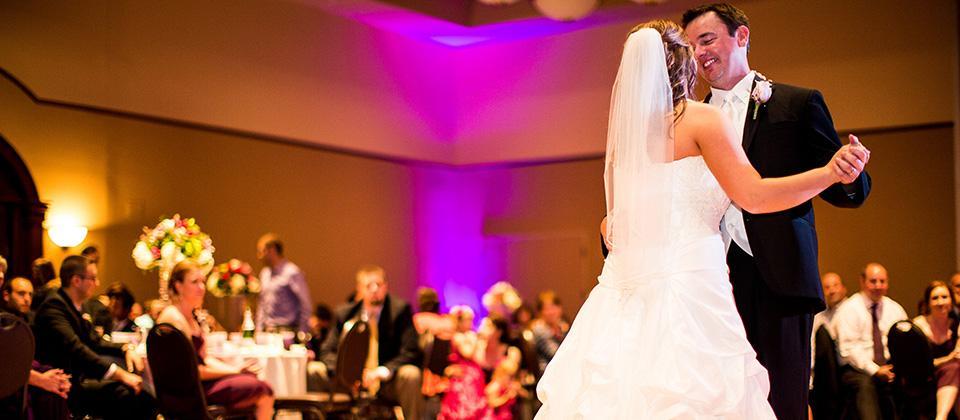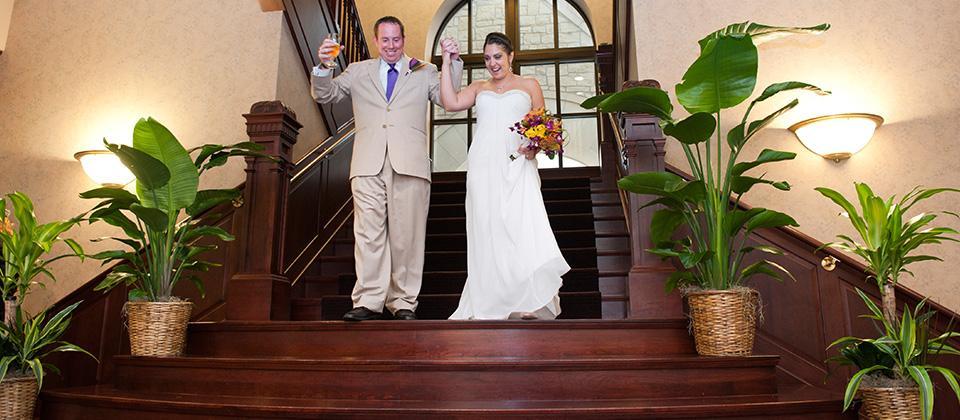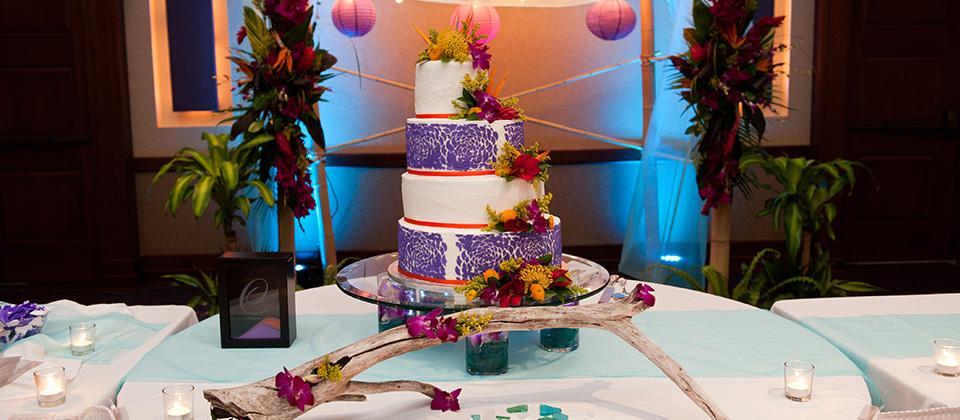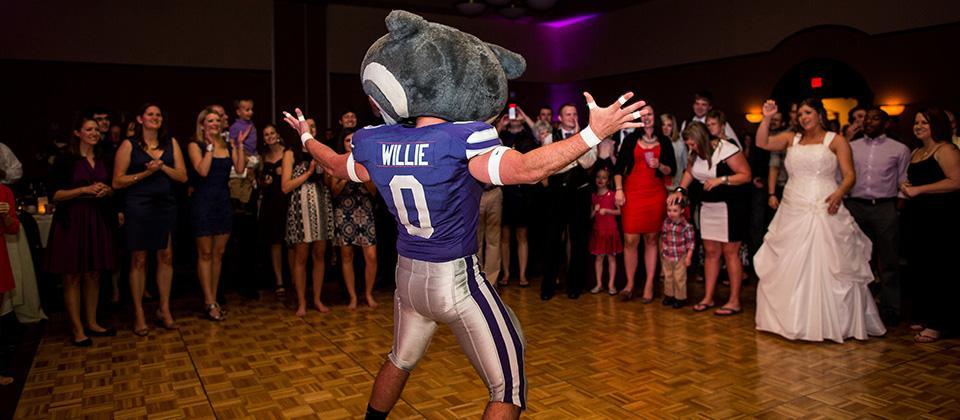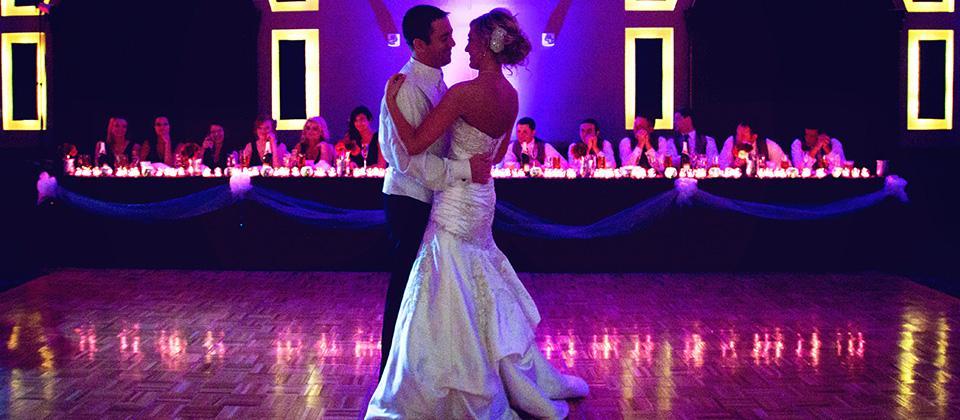 Make your reception a night you will never forget. With our main ballroom that can seat up to 400 people, let your fantasy come true. At the Alumni Center, we believe everyone should have an amazing experience when visiting our establishment. With friendly staff and amazing décor, we promise you a night filled with joy and excitement. Let us help you host the most special day of your life!


The following is a basic list of policies and procedures to help make your day the best it can be. Please refer to the Usage Guidelines and Frequently Asked Questions for more information.


Wedding Packages
• For wedding receptions with a dance, the first floor of the Alumni Center is required to be rented. This space includes: the Barrett Wildcat Den, Tointon Great Room, Johnson Terrace and the entire Banquet Room.
• The cost for renting the first floor, along with the dance floor, is $2,500 for Saturday-only rental and $3,000 for Friday through Saturday rental.* A deposit of half the total rental price is required to reserve the space. The remaining balance is due before the event date.
*Friday rental is based on availability
Add On's
Uplights - $20 per light. Up to 10 lights avaiable and we have 50 color combos to choose from.
Ivory pipe and drape - $100 rental. 30 ft. of pipe and drape. Setup/tear down included in rental.

Alcohol
• No alcoholic beverages may be brought into the facility by a party other than the approved caterer.
• The individual or agency sponsoring the event assumes responsibility for compliance with all laws governing the dispensing and serving of alcoholic beverages.
• No alcoholic beverages may be sold without a license. A caterer having the required licenses to serve the alcoholic beverages is required for events. Sale of alcoholic beverages must be arranged for and purchased through a licensed caterer of alcoholic beverages.
• Only persons of legal drinking age may possess, be served, or be permitted to consume alcoholic beverages.
• Alcoholic beverages are not allowed outside the designated boundaries of the Alumni Center.
• The Association reserves the right to control the time and length of an event in which alcohol is served. The Association further reserves the right to deny service to individuals and to discontinue the service of alcoholic beverages prior to the scheduled ending time should the conduct and decorum of the guests or violations of these guidelines or state laws make it necessary to do so. If the Association thinks it is necessary to have security at the event, it will arrange such, at the expense of the sponsor.
• All alcohol must be served by the catering staff. Bottles of alcohol are not to be placed on guest tables, nor are guests to have the ability to serve themselves.
• Alcoholic beverages must be purchased prior to 30 minutes before the end of the event.

Availability
• The space is available 8 a.m. to 11:30 p.m. day of event.
• All events must conclude no later than 11:30 p.m.
• Allow one hour of cleanup after reception has concluded.

Cakes
• Cakes may be provided from outside vendors.
• The vendor does not need to be one of the approved caterers for the Alumni Center.

Candles
• No open flame candles will be permitted. Candles must be encased in glass. Votives are allowed, as well as tea lights as long as they are in a container or floating in water.
Ceremony
The Center can provide three different options for hosting ceremonies. Space can be rented for a ceremony only or can be hosted along with a reception.
• Full Banquet Room
• Can accommodate up to 400 guests
• If hosting with a reception: round tables would be set up around the perimeter of the room
• Half Banquet Room
• Can accommodate up to 300 guests
• $600 to rent for ceremony ONLY
• Johnson Terrace
• Can accommodate up to 220 guests
• $200 renting alone or add on to wedding reception
For all Indoor Ceremonies
• Alumni Center can provide a wireless or lapel microphone for an additional charge.
• If the reception is immediately to follow; there is no additional cost to flip the space for the reception.
• Use of a Laser projection system for a slideshow is included in room rental.
• Alumni Center staff will reset banquet room from ceremony to reception.
For all Ceremonies
• If space is available the night before, we can accommodate a rehearsal for up to an hour for no additional charge.
• The Center does not provide any décor.
• Center staff will set all tables, chairs, etc. needed for ceremony set up's.
Decorations
• All decorations and rental items must be approved by the building manager. They must be free-standing, including signs. Nothing is to be attached to the walls or ceiling. No posters or banners will be permitted on the Alumni Center exterior or grounds without the approval of the building manager.
• No helium balloons will be allowed in the Banquet Rooms or Tadtman Board Room.
• Glitter, sprinkles or confetti will not be allowed in the Alumni Center.
• The removal of any fixtures, furniture or furnishings from the Alumni Center is prohibited.

What's Included?
• Set up and clean-up of all spaces including tables, chairs, dance floor.
• Professional and knowledgeable event staff on site all day and evening.
• Complimentary use of two 12' drop-down projection screens.
• Grand entrance down the elegant Stolzer Grand Staircase.
• Congratulatory message on a large, electronic kiosk in the Great Room.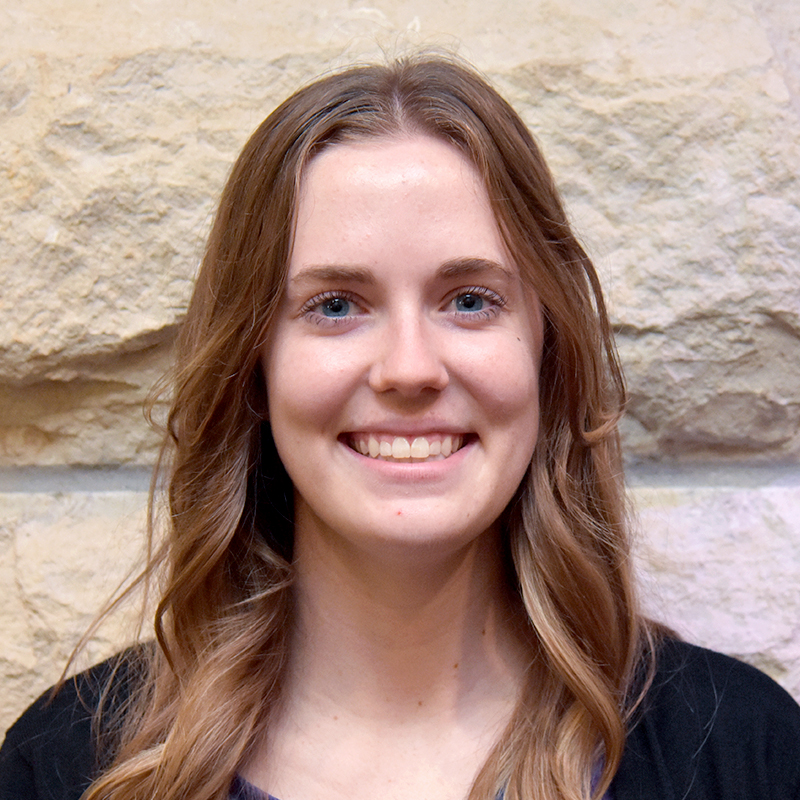 Questions?
Abby Vetter
Alumni Center event coordinator
785-532-5075
---