Wyatt Thompson to receive K-State Alumni Association's 2019 Flinchbaugh Family Wildcat Pride Award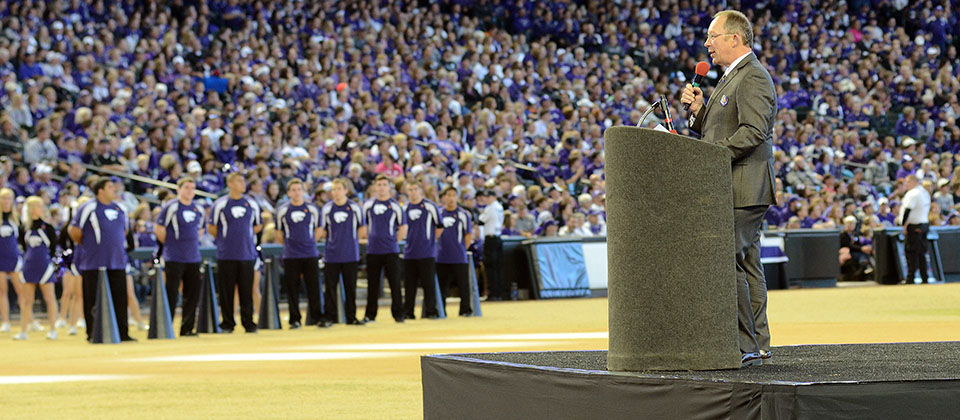 You may not know his face, but you've certainly heard of Wyatt Thompson. He is the "Voice of the Wildcats" after all. When it comes to K-State sports, he's the eyes and ears for many Wildcats away from Manhattan.
Thompson, K-State's play-by-play announcer, has served as the anchor of the K-State Sports Network for 17 seasons.
The purple pride and passion for K-State Thompson echos are always on display, but especially on gamedays and as he travels to pep rallies and Catbacker Club events. Because of this, the K-State Alumni Association is honoring his work and his K-State spirit with the 2019 Flinchbaugh Family Wildcat Pride Award.
"So many great moments in K-State sports history have been narrated by Wyatt Thompson," said Amy Button Renz, president and CEO of the K-State Alumni Association. "Wyatt's professionalism and dedication to his craft have allowed many K-Staters to place themselves at the football and basketball games he calls. But he's so much more than just the 'Voice of the 'Cats.' Wyatt's support of alumni club and Catbacker events helps us to engage with alumni and encourage their lifelong involvement with K-State."
Every year, the K-State Alumni Association presents the Flinchbaugh Family Wildcat Pride Award to a current or emeritus K-State faculty or staff member for his or her advocacy of alumni relations, with a special emphasis on support and participation in alumni programs that engage members of the Wildcat family.
According to Michelle Elkins, associate director of awards and special events, Thompson has been a strong partner of the Alumni Association. He promotes Association membership and programs through the annual Catbacker tour and during his broadcasts. He also emcees the Homecoming pep rally as well as other events throughout the year.
"The Wildcat Pride Award emphasizes advocacy, support and engagement for members of the Wildcat family — Wyatt's demonstration of each of these characteristics over the past 17 years has helped promote K-State in such a positive way," said Alan Fankhauser, assistant director of alumni programs, who nominated Thompson for the award. "Many of the Catbacker events Wyatt hosts help to support local Alumni Clubs raising scholarship money for local high school students. His ability to have positive interactions with those prospective students, as well as student-athletes, coaches, alumni and K-State staff, is second to none. His energy and passion for K-State is a great addition to every event he attends."
Thompson said he appreciates the partnership and spirit of camaraderie that exists between K-State Athletics, the Alumni Association, KSU Foundation and the university. That friendly cooperation between different organizations isn't something you find at every university, and fans take notice.
"It makes a real difference when you're out there together," he said.
There are a number of memories that stand out to Thompson from his years with K-State Athletics. There's the 2003 Big 12 football championship, where K-State defeated the Oklahoma Sooners, considered to be one of the greatest teams in college football. There's also the 2013 Wildcat basketball Big 12 championship game during Bruce Weber's first season at K-State, and the baseball super regional where the 'Cats came close to going to the College World Series.
"I never take that stuff for granted — it's just such a special time," Thompson said.
However, the most important part of those memories is definitely the people — all the coaches, players, staff, donors and fans he has been honored to interact with over the years. The people are what make these experiences special.
"At the end of the day, that's what you're going to remember," he said. "If you're involved with K-State, you understand."
The K-State Alumni Association will recognize Thompson at an awards dinner March 1 as part of the Association's board of directors meeting. The award is made possible by the Barry and Cathy Flinchbaugh '69, '82 family.
---