Retired assistant athletic director Lon Floyd receives Wildcat Pride Award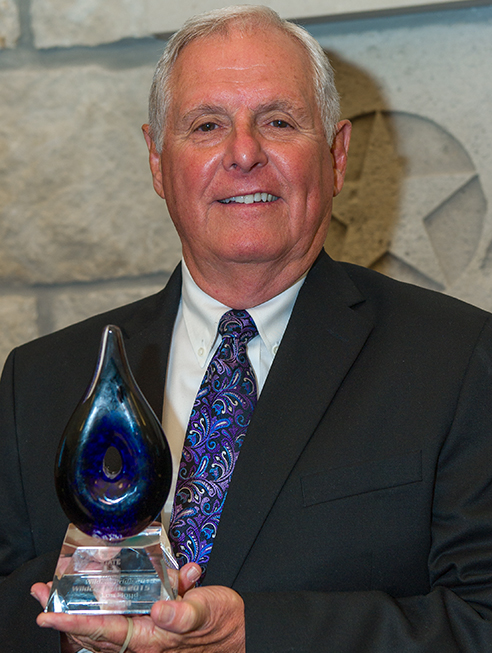 While traveling during his 19 years as Kansas State University assistant athletic director, Lon Floyd '67, '71 met hundreds of Wildcat fans in various towns across the state of Kansas. Those fans were united by the connection they felt to the university and the pride they took in being Wildcat fans — and it's a sentiment Floyd clearly shares.
"They were the best years of my life," the now-retired Floyd said of his time at K-State. "I sincerely believe that the Kansas State family is truly a family. There is a warmth or feeling about K-State that I just can't describe. The people really care about Kansas State University."
Floyd's influence can be seen across K-State. He started his career as an assistant track coach from 1969 to 1972 and returned in 1996 to serve as assistant athletic director of the Ahearn Fund. He also created Cat Town; grew the Powercat Auction into K-State's single largest annual fundraising event; and organized the annual summer Catbacker tour, which brings K-State to clubs around the state and provides K-State alumni, fans and future students an opportunity to interact with coaches and student-athletes.
In recognition of his service, the K-State Alumni Association honored him with the 2015 Wildcat Pride Award.
"Beyond his official role, Lon has been an important advocate for the K-State Alumni Association," said Amy Button Renz '76, '86, K-State Alumni Association president and CEO. "He has validated our mission, presence and events within the athletics department. This has been instrumental in building the strong relationship and ties the Association shares with K-State Athletics today."
One of Floyd's favorite memories at K-State was organizing the annual Catbacker tour and meeting Wildcat fans across the state. He said the Catbacker tour can be taxing, often packing 28 to 30 events into a 45-day period. There were plenty of late nights and early mornings. However, he said the tour also was a fun, energizing experience. The Catbacker organization helps set K-State apart from other universities, recruiting volunteers from different communities and giving fans a unique opportunity to connect.
Although Floyd is enjoying his retirement and spending time on his farm, he still looks back fondly on his years at K-State. He's watched K-State Athletics evolve over the years and is excited to see where the organization is heading in the future. As a track athlete, he remembers running on the old track in Memorial Stadium, and he said back then he never could have imagined the facilities K-State has now. He thanked donors and fans for making K-State's success possible.
"I think we're now back in the race in the Big 12 Conference in terms of facilities," he said. "The people of Kansas State believed in that, and they stepped forward and made that happen. That's what K-State is all about."
---