Flint Hills Shakespeare Festival celebrates 10 years, K-State connection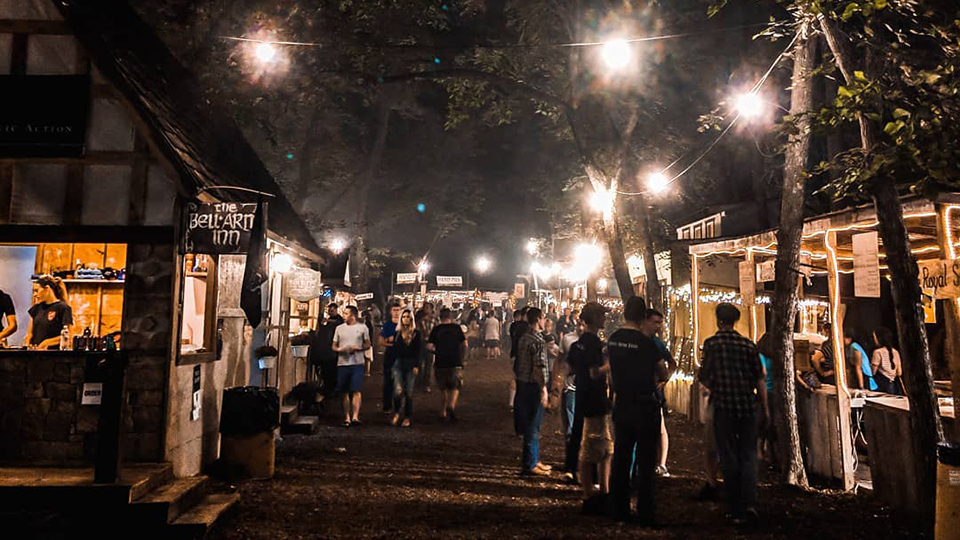 Nestled within a grove of trees outside of St. Marys, Kansas, you'll find a small village that looks like it's been transported from 1600s England.

Strings of warm, glowing lights twinkle in the darkness, and you can hear the sounds of voices and laughter. The smell of cooking food drifts through the air, and vendors are selling crafts and other wares to the visitors wandering up and down the dirt paths.

However, at the moment most of the attention is focused on the main event — a performance taking place on the stage in a nearby field, of a play written hundreds of years ago by one of history's greatest writers.

Now celebrating its 10th anniversary, the FLINT HILLS SHAKESPEARE FESTIVAL has grown from a small gathering celebrating the works of English playwright William Shakespeare to a major production that draws around 7,000 over six nights. People come to watch a classic Shakespeare play outdoors and also to enjoy the "village" of vendors, which includes food, arts and crafts, music, a pub and more.

Celebrating the festival's 10th year will be a proud moment for co-founder and K-State alum Ben Moats '08.

"I had long dreamed of doing something like this," he said. "At its root, the festival was inspired by a general love for the classical arts fostered by my upbringing and the subsequent need to create that it inspired."
To be, or not to be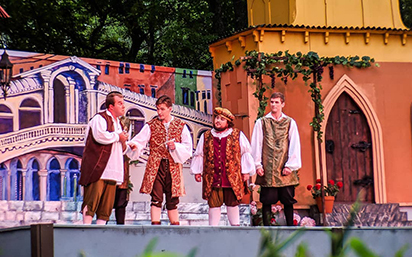 So how did the Flint Hills Shakespeare Festival come to life in St. Marys, Kansas, a town of about 2,700 approximately 30 miles from Manhattan, Kansas?

Moats said he knew wanted to "put down roots" and invest in the development of the community. Along with two friends (Eric Stevenson and Tim Akers), he helped organize the first show in 2010.

They started small on the fourth hole of the St. Marys Golf Course. About 600 people attended. After their second year there, they realized they needed a permanent location since they were only able to use the golf course during a narrow time window and had already doubled their attendance.

In 2012, a 501(c)(3) was formed and Moats became president. Their current location has allowed a festival to be added to the show, with about 40 permanent booths placed along paths throughout the forest near the stage.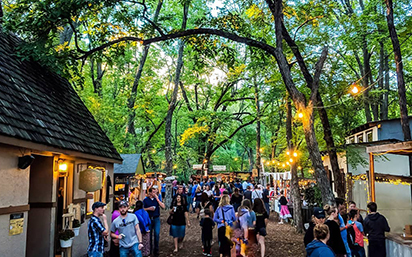 Actor and fellow K-State alum Patrick Murtha '05 also has been involved in the Shakespeare Festival. He and Moats had been good friends and neighbors for many years and had acted together in various productions.

Murtha said they had many conversations over Moats' picket fence, and one in particular was about his vision of producing a Shakespeare festival.

Murtha has to confess that, at that time, he was skeptical about the whole idea, worried it would only last a couple years. However, he gladly lent his support to his friend, and the rest, as they say, is history.

"Here we are a decade later, the show is growing in leaps and bounds, every year drawing more and more people in to see the famous plays of the Bard," he said.

He encourages people to give the festival a try and just take in the whole experience: the baked goods, beef pies and turkey legs, caramel apples, exhibitions with on-site artists and a blacksmith, games, music and the general ambiance.

"Bringing to life Shakespeare's characters and knowing that people appreciate this moment is a world of its own — these are joys that can fill a heart," he said.
Such stuff as dreams are made on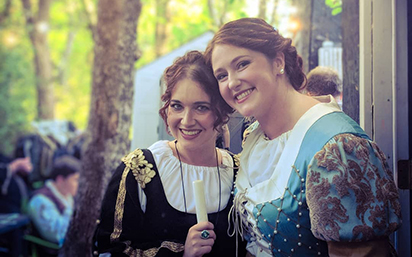 Both Moats and Murtha look back fondly on their time at K-State, and reflect on the ways that it shaped them.

"As a slightly older, non-traditional student in the College of Business, I finished out the bachelor's degree that I still rely on in the family business in which I work today," Moats said.

While at K-State he also had the opportunity to take some introduction to acting classes — classes he was interested in since he had been involved in theatrical productions throughout high school and at the Columbian Theatre in Wamego, Kansas.

"My degree and acting experience has come in handy in bridging the gap between the business side and the theater side of starting and running a nonprofit 501(c)(3) Shakespeare festival," he said.

Murtha said during his time at K-State, "Hale Library was my home." He worked as a research assistant to Phil Nel, a university distinguished professor in the Department of English. He has memories of exploring the stacks and scouring through microfilm.

"It was a grand job," he said. "It taught me how to dig for little treasures amidst a sea of words."
The play's the thing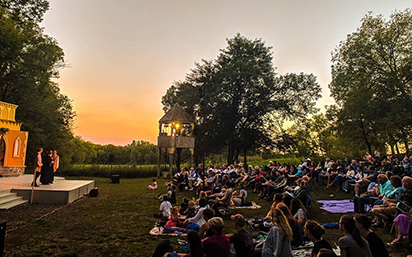 Even though Shakespeare's plays were written approximately 400 years ago, their popularity endures. Moats and Murtha have thoughts on why people continue to be drawn to the Bard's work.

"Shakespeare is still relevant today because there is no better playwright in the history of the English language," Moats said. "His works still resonate with modern audiences because he wrote, in a sense, almost outside of time. His works are timeless because they are true and get to the heart of things in an extremely inspired way. They show us much about ourselves if we are willing to look."

Murtha adds that Shakespeare is one of those few artists that will live eternally.

"He has the two essential qualifiers of a great artist: a significant and universal and common message, and a wonderful and poetical way of saying it, even when it is mere prose. Even when he dabbles in outdated politics and squabbles, his characters and his plots are as timeless as the common man because the plays are about the common man, the everyday man, the man of yesterday and today and tomorrow. They are about being human, about blundering, about mercy and justice, about envy and benevolence, about mischief and good humor, about the vices and the virtues that make a human human."

LEARN MORE about how you can attend the next Flint Hills Shakespeare Festival.
Note: This article originally appeared in the August 2019 issue of At K-State newsletter
---