K-Stater reaches for the stars and fulfills dream of working for NASA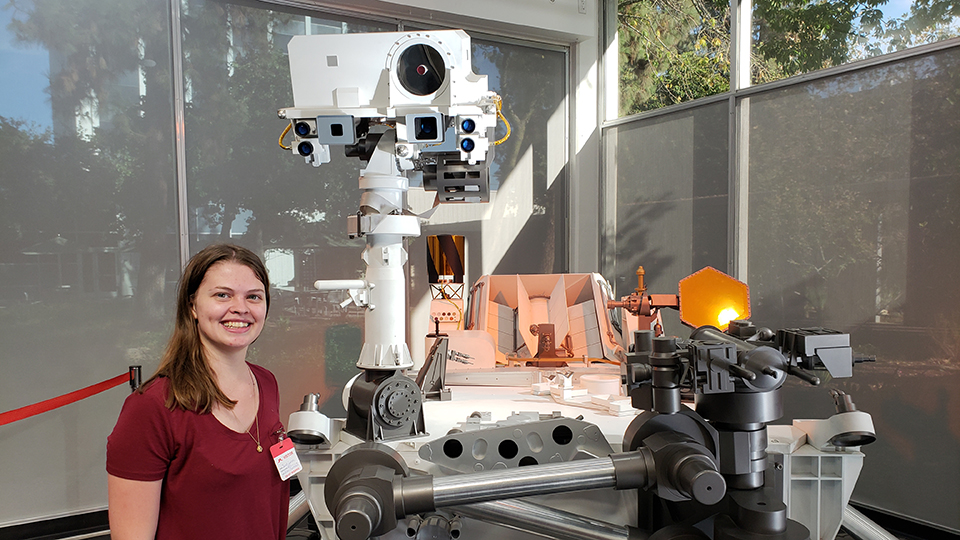 Since she was a sophomore in high school, Sarah Lamm '18 knew that she wanted to someday work for NASA.

During her first year at Kansas State University, she was already applying for internships at the space exploration agency. Her K-State graduation cap was even decorated with the NASA logo in rhinestones.

That passion for space exploration and discovery has paid off — as a Northern Arizona University doctoral student, she is a member of NASA's Curiosity mission team, helping search for signs of life on Mars.

NAU has a lab where students and professors can direct Curiosity — a car-sized rover — around the surface of Mars. Lamm is involved with the rover's ChemCam: an infrared laser and camera that serves as Curiosity's "head" and "eyes."

According to NAU, Lamm's research includes looking at pictures of rocks shot with lasers and analyzing their chemical composition. The end goal is to determine whether life could have existed on Mars by examining if the necessary conditions were ever present for life to survive.

Although the surface of Mars is a long way from Manhattan, Kansas, Lamm thanks K-State for giving her the tools she needed to reach her dream.

"K-State prepared me to think critically, to be bold, and to search for opportunities," she said. "If there was not an opportunity, then I needed to create one myself."
From K-State to NASA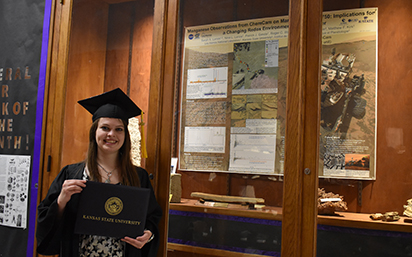 Lamm said that when she was originally looking at colleges, she narrowed it down to either K-State or KU. After visiting the two schools and meeting with faculty members, she decided on K-State.

During her junior and senior years of high school, she also was a full-time community college student and graduated with an associate of science in engineering and an associate of arts in political science the same weekend as her high school graduation. She arrived at K-State as a junior with approximately 70 credits. Since it was going to be hard for her to be a full-time student with so many pre-existing credits and only one major, she decided on not two but three different majors: chemistry, geology and geography.

She knew an internship during her time at K-State could help open the door for her to work at NASA. However, one internship she was interested in required a letter of recommendation from a geology professor, and at that time, Lamm had only taken one geology course at K-State — so it would have to be that professor writing the letter.

That professor was Matthew Kirk, a geomicrobiologist in the Department of Geology. He agreed to send a letter of recommendation, and he also mentioned he had a colleague who worked on the Curiosity rover. He offered to send Lamm's resume to Nina Lanza at Los Alamos National Laboratory, who was on the ChemCam team. She was impressed by Kirk's recommendation and Lamm's resume.

Lamm was eventually offered an internship for the summer of 2016, and Lanza has been her mentor ever since.

"None of the departments I was in had a focus in planetary science — but I didn't let that stop me from trying," Lamm said. "I got my LANL internship by being bold and asking a professor I barely knew at the time for a letter of recommendation."
From NASA to Mars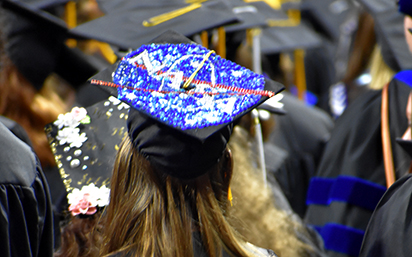 Lamm said one of her favorite parts of working with Curiosity is being involved with operations.

"I am fully trained to be the ChemCam science downlink lead," she said. "Which means I download the latest data and make preliminary reports. I love this because I might be one of first people in the world seeing this data, and it's my responsibility to alert the team to anything unusual I see."

So, how does the ChemCam work, exactly?

"The laser shoots rocks, vaporizing them into plasma that gives off light collected by spectrometers on Curiosity," NAU says. "The light gives off different wavelengths that correspond to different elements, and scientists back on Earth compare them with samples of known elemental concentrations. The process allows the team to approximate the chemical composition of rocks on Mars."

She also signed up for the CURIOSITY MISSION UPDATE.

"Scientists who have volunteered get to write about what Curiosity is doing that day," she said. "I usually blog on days that I am the ChemCam science downlink lead."

In the future, Lamm hopes to end up at a NASA facility or at Los Alamos National Laboratory. Her goal is to be a principal investigator on an instrument going to Titan, the largest moon of Saturn.

Wherever her career takes her, she plans to continue exploring boldy.

"Space exploration is exciting because of the challenges of sending spacecrafts and rovers," Lamm said. "There is so much that goes into planning and designing these missions. Every new analysis from Curiosity is completely new data."

READ MORE about Lamm's work with NASA.
Note: This article originally appeared in the January 2019 issue of At K-State newsletter
---