Two K-State faculty receive $5,000 Iman Awards for research and teaching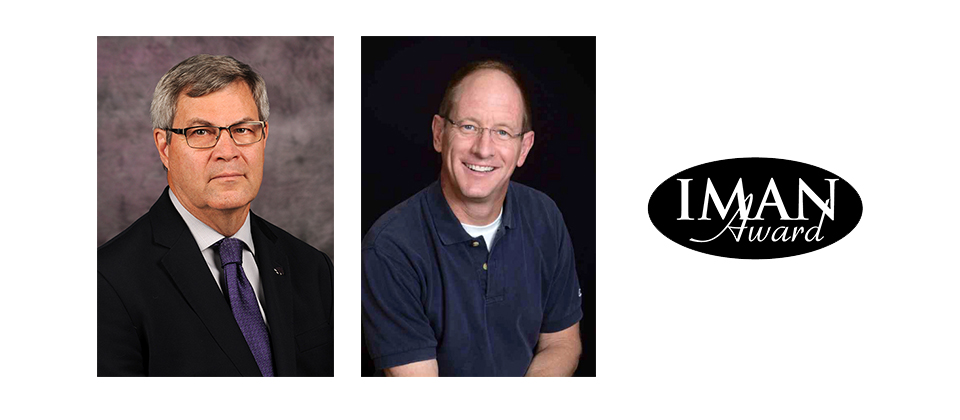 Two Kansas State University faculty members, in agronomy and geography, will each receive $5,000 awards in recognition of their outstanding research and teaching during a 4 p.m. ceremony Sept. 27 at the K-State Alumni Center.

Introduced in 2007, the annual Dr. Ron and Rae Iman Outstanding Faculty Awards are sponsored by the K-State Alumni Association and are made possible through the generosity of Ron and Rae Iman.

Charles W. Rice, Ph.D., university distinguished professor of agronomy and recipient of the Mary L. Vanier University Professorship, will receive the Iman Outstanding Faculty Award for Research. The recipient of the Iman Outstanding Faculty Award for Teaching is Jeffrey S. Smith, Ph.D., associate professor of geography.

Rice's award recognizes faculty members who have distinguished themselves in their chosen profession and who have contributed significantly through research to improve the betterment of the educational experience, or whose research has had a significant impact on their area of study.

Rice teaches courses and conducts research on soil carbon and nitrogen, microbial ecology, and climate change impacts on agriculture. He has advised more than 40 graduate students and 10 post-doctorates and has over 200 publications. Internationally, he served on the U.N. Intergovernmental Panel on Climate Change to author a report on climate change in 2007 and 2014 and was among scientists recognized when that work won the Nobel Peace Prize in 2007.

His nominator, John Floros, dean of the College of Agriculture and director of K-State Research and Extension, said, "Dr. Rice's achievements in research have followed from an amazing degree of success in obtaining extramural funds from several agencies, including national and international organizations and industry. Over the course of his entire career, Dr. Rice has been associated with over $44 million in grants from highly competitive programs. Chuck has led all other individual scientists in academic departments in the College of Agriculture over the past five years with awards totalling over $6.5 million."

Rice has received numerous awards for his international accomplishments from K-State, Soil Science Society of America, American Society of Agronomy and the Soil and Water Conservation Society.

Additionally, he has served in numerous capacities with professional societies, including as president of the Soil Science Society of America in 2011. Rice serves on the board of trustees for CIAT, the International Tropical Agriculture Research Center based in Cali, Colombia. He also chairs the board on agriculture and natural resources of the U.S. National Academies of Science, Engineering, and Medicine.

Smith's award honors a full-time K-State faculty member for excellence in high-quality instruction, strong relationships with students inside and outside the classroom and a reputation for scholarship and distinguished service to the university.

His nominator, Charles W. Martin, professor of geography and head of the Department of Geography, said, "The personal connection that he forges with students is increasingly rare in a large research university. Students enjoy access to Jeff in and outside the classroom, and consistently rank his classes as among the best they have taken at K-State."

Smith joined the faculty at K-State in 1998. In the 19 years Smith has been at K-State, he has taught more than 9,000 students in classes such as World Geography, Geography of Kansas, Geography of Mexico and Central America, as well as various graduate-level seminars. His research focuses on analyzing the built environment, place attachment among culture groups and cultural change.

His research has appeared in multiple book chapters, encyclopedia entries, and such scholarly journals as the "Geographical Review," the "Professional Geographer," "Journal of Cultural Geography" and "Material Culture." In January 2018, his book on the typology of places to which people become emotionally attached is expected to reach print.

"K-State truly benefits from the accomplishments of Dr. Rice and Dr. Smith," said Amy Button Renz, president and CEO of the K-State Alumni Association. "Through their hard work and dedication to the pursuit of knowledge, these professors have elevated K-State's reputation worldwide and enriched the education of our students. The Alumni Association would like to thank Ron and Rae Iman for their generous commitment to make these awards possible, so that we can continue to honor the exemplary work of our professors."

The Imans live in Albuquerque, New Mexico, Ron and Rae are life members of the K-State Alumni Association and serve as Kansas State University Foundation trustees. Ron Iman earned three degrees from K-State: a bachelor's degree in math education in 1962, a master's degree in 1970 and a doctorate in statistics in 1973. He is a past member of the Association's board of directors, served as the Association's representative to the KSU Research Foundation board and is a past chair of the Arts and Sciences Advisory Council. He received the university's Arts and Sciences Distinguished Service Award in 1996 and, in 1994, served as national president of the American Statistical Association. Ron Iman was named a Highly Cited Researcher by the Institute for Scientific Information in 2004.

Learn more about the Iman Awards.
---