Two K-State faculty receive $5,000 Iman Awards for research and teaching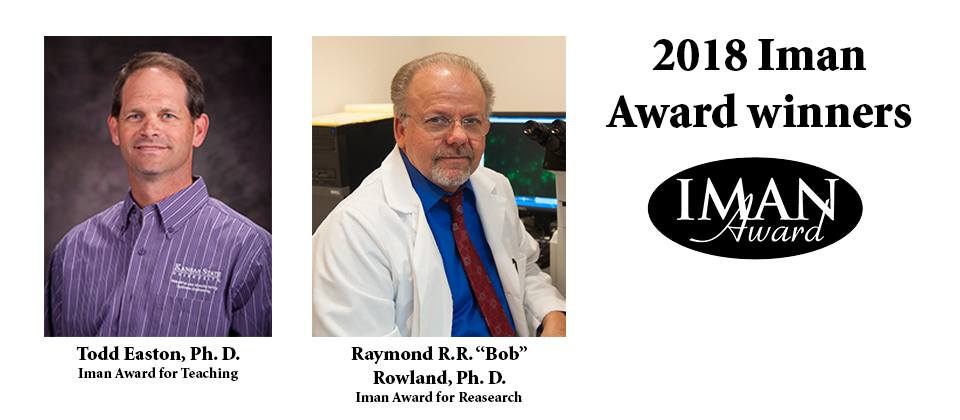 Two Kansas State University faculty members, one from the College of Veterinary Medicine and one from the College of Engineering, will each receive $5,000 awards in recognition of their outstanding research and teaching during a 4 p.m. ceremony Oct. 15 at the K-State Alumni Center.
Introduced in 2007, the annual Dr. Ron and Rae Iman Outstanding Faculty Awards are sponsored by the K-State Alumni Association and are made possible through the generosity of Ron and Rae Iman.
Todd Easton, Ph.D., associate professor of industrial and manufacturing systems engineering, will receive the Iman Outstanding Faculty Award for Teaching. The recipient of the Iman Outstanding Faculty Award for Research is Raymond R.R. "Bob" Rowland, Ph.D., professor of diagnostic medicine and pathobiology.
Easton's award honors a full-time K-State faculty member for excellence in high-quality instruction, strong relationships with students inside and outside the classroom and a reputation for scholarship and distinguished service to the university.
A member of K-State's faculty since 2001, Easton developed a new active learning teaching style called lecture-based tutoring. He has successfully implemented this technique in both undergraduate and graduate courses covering 16 distinct semester long classes.
His nominator, Bradley A. Kramer, professor and head of the Department of Industrial and Manufacturing Systems Engineering, said, "Students rearrange their schedules to take his classes. His popularity, though, is certainly not based on his being an easy teacher. Dr. Easton challenges his students to a very high level. He is an energetic and enthusiastic manager of learning and is highly respected by students. He treats each student as if he was their personal mentor. He knows his students well and actively participates in advising them on their course scheduling, professional development and career plans."
Easton is the Ike and Letty Evans Cornerstone Teaching Scholar and Coffman Chair for University Teaching Scholars.
His research interests are in combinatorial optimization with an emphasis in integer programming and graph theory. Additionally, he has been the major adviser to two Ph.D. dissertations and 35 master theses.
Rowland's award recognizes faculty members who have distinguished themselves in their chosen profession and who have contributed significantly through research to improve the betterment of the educational experience, or whose research has had a significant impact on their area of study.
His nominator, Derek Mosier, professor and head of the Department of Diagnostic Medicine and Pathobiology, said, "Bob has established an international reputation addressing fundamental problems in the detection and control of infectious pig diseases caused by emerging and foreign viruses. Bob's lab has also been active in the training and mentoring of undergraduate, graduate and veterinary students as well as post-doctoral students and junior research faculty. His professional service to research organizations as well as the department, college and university are also notable."
Rowland is a virologist and immunologist and is an internationally recognized leader in swine health. For more than 25 years, he has worked on developing control measures for porcine reproductive and respiratory syndrome virus, known more commonly as PRRSV, the most devastating disease to ever face the global swine industry.
His recent work, in collaboration with scientists from the University of Missouri, demonstrated that genetic modification of the PRRSV receptor delivers complete resistance to disease. This work is considered a "game changer" that creates a path for the elimination of the virus and other pig diseases.
Other work related to host genetics is the discovery of a severe combined immunodeficiency syndrome in pigs. His national and international leadership is demonstrated by directorships of the USDA-funded PRRS Coordinated Agricultural Project, PRRS Host Genetics Consortium, and the North American PRRS Symposium. He serves as a subject matter expert on trade issues affected by swine diseases. Significant contributions to graduate education include mentoring more than 22 graduate students and initiating the D.V.M./Ph.D. program.
"Dr. Rowland and Dr. Easton are great examples of the positive impact faculty have on both the university and society as a whole," said Amy Button Renz, president and CEO of the K-State Alumni Association. "Their hard work, dedication and accomplishments have enhanced K-State's reputation across the nation and beyond as a major research institution."
The Imans live in Albuquerque, New Mexico, Ron and Rae are life members of the K-State Alumni Association and served as Kansas State University Foundation trustees. Ron Iman earned three degrees from K-State: a bachelor's degree in math education in 1962, a master's degree in 1970 and a doctorate in statistics in 1973. He is a past member of the Association's board of directors, served as the Association's representative to the KSU Research Foundation board and is a past chair of the Arts and Sciences Advisory Council. He received the university's Arts and Sciences Distinguished Service Award in 1996 and, in 1994, served as national president of the American Statistical Association. Ron Iman was named a Highly Cited Researcher by the Institute for Scientific Information in 2004.
Learn more about the Iman Awards.
---