Two K-State faculty receive $5,000 Iman Awards for teaching and research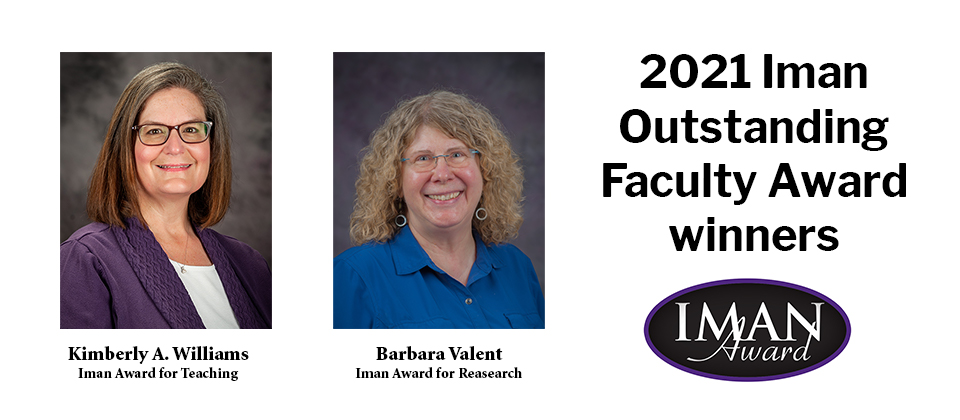 Two Kansas State University faculty members, both from the College of Agriculture, will each receive a $5,000 award in recognition of their outstanding teaching and research during a virtual ceremony. The ceremony will take place April 15 at 4 p.m. on K-State Alumni Association's YouTube channel.
Introduced in 2007, the annual Dr. Ron and Rae Iman Outstanding Faculty Awards are sponsored by the K-State Alumni Association and are made possible through the generosity of Ron and Rae Iman.
Kimberly A. Williams, professor and university distinguished teaching scholar of horticulture and natural resources, will receive the Iman Outstanding Faculty Award for Teaching. The recipient of the Iman Outstanding Faculty Award for Research is Barbara Valent, university distinguished professor of plant pathology.
Williams' award honors a full-time K-State faculty member for excellence in high-quality instruction, strong relationships with students inside and outside the classroom and a reputation for scholarship and distinguished service to the university.
Williams earned her bachelor's degree in horticulture from K-State in 1988. She earned her master's degree and doctorate from North Carolina State University. Williams returned to K-State and has been teaching and advising horticulture students since 1997. She instructs five undergraduate courses that are known for their extensive experiential, problem-based learning, including greenhouse operations management and herbaceous crop production. Her exceptional teaching has been recognized with several university and national awards over her career, including USDA Food and Agricultural Sciences Excellence in Teaching Award and Outstanding Undergraduate Educator of the American Society for Horticultural Science.
In 2010, she was named a university distinguished teaching scholar at K-State. Such recognition, and her student evaluations, are testament to the passion and excellence that she brings to her advising and instructional efforts. Her goal is to meet students where they are and help them achieve even more than they thought possible. In addition to her disciplinary research, which has been supported with more than $2.3 million in extra-mural funds and resulted in 110 publications, she has actively engaged in the Scholarship of Teaching and Learning; publications from this work have been recognized three times with the Outstanding Education Publication Award from the American Society for Horticultural Science.
In support of her nomination, Renata Goossen, senior in horticulture, said, "In each of the courses I have taken from Dr. Williams, she demonstrated knowledgeability about the topics covered and commitment to providing the best experience for the students taking the class. I greatly admired her ability to relate the subjects of the class to our applied fields within plant science."
Valent's award recognizes faculty members who have distinguished themselves in their chosen profession and who have contributed significantly through research to improve the betterment of the educational experience, or whose research has had a significant impact on their area of study.
Valent developed an interest in fungi that threaten food crops while earning a doctorate at the University of Colorado. As an National Institutes of Health post-doctoral fellow at Cornell University, she initiated research on the most serious pathogen of rice, the blast fungus. Valent has become internationally recognized for her rice blast research, first as a scientist at the DuPont Company and then as a K-State faculty member since 2001. Valent played a leading role in developing rice blast as a model system for plant pathology, with specific contributions to understanding how the fungus causes disease at the cellular and molecular levels, and how the fungus rapidly evolves to defeat resistance deployed to control it. Since 2009, she has also focused on wheat blast, caused by a newly-emerged fungal variant that now threatens global wheat production. Her wheat blast research, performed in the K-State Biosecurity Research Institute and with international collaborators, aims to keep this disease out of U.S. wheat. Valent is a U.S. National Academy of Sciences member and a Fellow of two major scientific societies.
Valent's nominator, Ernie Minton, dean of the College of Agriculture, said, "Dr. Valent is a nationally and internationally recognized scholar and leader, while at the same time contributing to the educational experience at Kansas State University. Barbara has endeavored to facilitate movement of her more basic discoveries into the field to benefit breeders and growers. In this way she has touched all of the mission areas that are core to K-State's land-grant identity: teaching, research and Extension/outreach. She is among the most productive and accomplished faculty members in the College of Agriculture."
"The contributions, accomplishments and impact Dr. Valent and Dr. Williams have had on K-State are innumerable," said Amy Button Renz, president and CEO of the K-State Alumni Association. "They are great examples of the positive impact faculty have on both the university and society as a whole. We are pleased to present them with this year's Iman Awards."
The Imans live in Albuquerque, New Mexico. Ron and Rae are life members of the K-State Alumni Association and served as Kansas State University Foundation trustees. Ron Iman earned three degrees from K-State: a bachelor's degree in math education in 1962, a master's degree in 1970 and a doctorate in statistics in 1973. He is a past member of the Association's board of directors, served as the Association's representative to the KSU Research Foundation board and is a past chair of the Arts and Sciences Advisory Council. He received the university's Arts and Sciences Distinguished Service Award in 1996 and, in 1994, served as national president of the American Statistical Association. Ron Iman was named a Highly Cited Researcher by the Institute for Scientific Information in 2004.
For more information on the Iman Awards and to register for the virtual event, visit k-state.com/Iman.
---