President Linton to serve as grand marshal for 2022 Homecoming Parade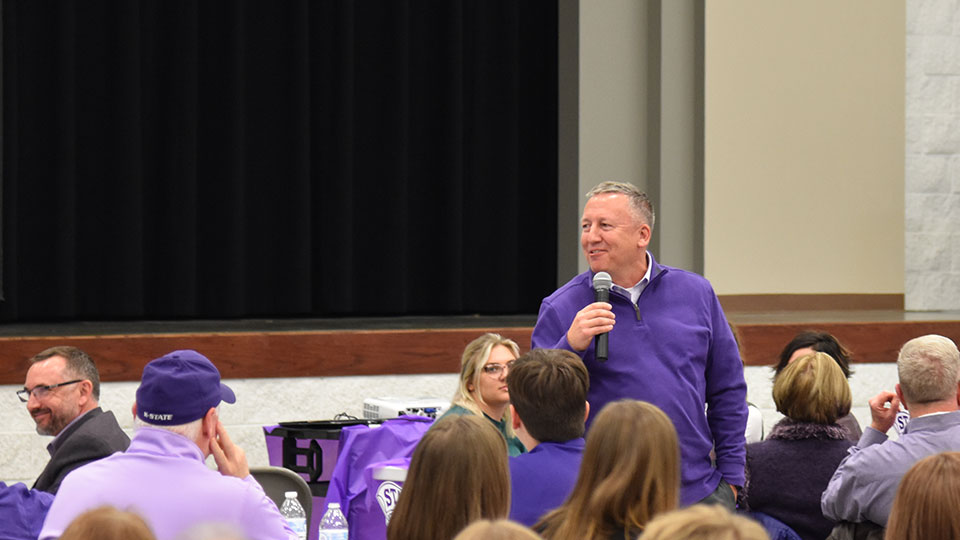 Richard Linton, Kansas State University's 15th president, has been named the 2022 Homecoming Parade grand marshal by the All-University Homecoming Committee and the K-State Alumni Association.
The Parade will take place on Oct. 28 at 5 p.m., beginning at Manhattan Town Center and proceeding through Aggieville before ending in City Park for the Homecoming Pep Rally.
Linton has served as K-State's president since February 2022. Linton previously served as dean of the College of Agriculture and Life Sciences at North Carolina State University from 2012-2022, as department chair of food science and technology at The Ohio State University from 2011-2012, and as a faculty member of the department of food science at Purdue University from 1994-2011. While at Purdue, Linton also served as the founder and director of the Center for Food Safety Engineering and as the associate director of agricultural research programs.
"This is Dr. Linton's first Homecoming celebration at K-State, and we are very excited to have him serve as the parade's grand marshal," said Amy Button Renz `76, `86, president and CEO of the K-State Alumni Association. "Our student-led Homecoming Committee selected the president for this honor. Their selection is a testament to the connections he is making with the student body. We look forward to Dr. Linton leading the parade in what is always a community highlight of Homecoming."
Homecoming has been a tradition at K-State for more than 100 years. This year's theme is "Wildcat Dreams." The week-long celebration, coordinated by the Homecoming Committee, will take place from Oct. 23-29 and is sponsored by the K-State Alumni Association. To stay up-to-date on all 2022 Homecoming activities, visit k-state.com/homecoming.
---